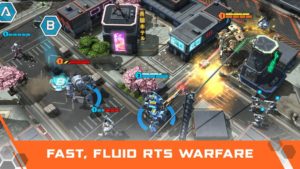 Respawn Entertainment, Nexon, and Particle City teamed up to produce Titanfall: Frontline for mobile devices last year, but after a poorly-received beta test, the game was shut down earlier this year.
However, the three companies will team up once more for Titanfall Assault, a new real-time strategy game for mobile devices:
Join the fight for The Frontier in this fast and fluid real-time strategy game. Combine towering Titans and agile Pilots to build an unstoppable force.

Put your skills to the test as you assemble the ultimate deck of Pilots and Titans paired into heroic duos. Collect and upgrade dozens of cards including tactical Burn Cards providing powerful battlefield support. Strategize your way to victory over enemy forces in epic PvP battles and compete for glory and rewards on the leaderboards.

Combine and conquer. Unite and destroy. And lead your forces to victory in The Frontier War.
Titanfall Assault is currently in development for iOS and Android devices, and you can sign up to be notified when it launches at the game's official website.
You can find the first set of screenshots from Titalfall Assault after the break.