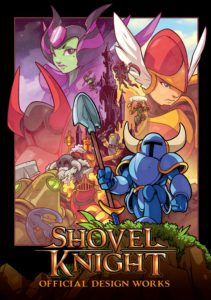 It looks like the rumors are true… Udon Entertainment will release a Shovel Knight artbook this August.
Shovel Knight: Official Design Works will include an in-depth look at the early concept art that allowed Shovel Knight to become a Kickstarter darling and indie sensation, as well an exclusive interview with the development team:
Udon has worked very closely with developer Yacht Club Games to ensure that Shovel Knight: Official Design Works is every bit the definitive Shovel Knight art book that fans deserve. Within its pages you'll find character art, developer commentary, rough illustrations and concept art, background development images, comprehensive sprite sheets, full-page promotional illustrations, and more – including an exclusive interview with the game's development team!
The 184-page book will also include content from the game's first expansion, Shovel Knight: Plague of Shadows.
If you can't wait until August, you can view a selection of preview pages at the the publishing company's official website right now.