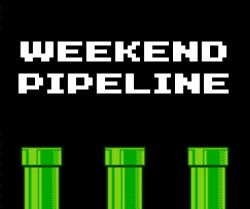 It's Friday, and I couldn't be happier. Between sales, free games, and celebrating Mother's Day, there's plenty to be excited about. If you're looking for something special for the mommy gamer in your life, there are a few sales that you'll likely want to check out. And if you're up for traveling, there's an amazing convention with a star-studded attendance list underway.
So without further ado, let's start planning those weekend schedules!
In-Game Events/Free Previews
Eador: Genesis – For a limited time, GOG is giving Eador: Genesis away completely free of charge. Alongside the game, you'll also receive the soundtrack, three wallpapers, and two avatars. Eador: Genesis is an older turn-based strategy game, originally released in 2009, so it's probably not that high on your radar. However, if you're looking for a fun and free way to spend your weekend, Eador: Genesis might be worth checking out. And if you like what you see, you can purchase the later Eador games at 51% off.
Oxenfree – Oxenfree is free to Twitch Prime members this weekend. Those of you who are not Twitch Prime members can still snag this awesome freebie by signing up for a Twitch Prime free trial. The game will only be available free of charge until Monday, May 15. So if you want this supernatural freebie, you're going to need to grab it soon.
Quake Champions Large Scale Technical Test – Quake Champions is opening up to all starting today. So if you're interested in trying the game out for yourself, right now is a great time to claim your beta key (which will also be valid during future Closed Beta dates). Bethesda just rolled out Sacrifice, a new 4v4 competitive mode, which will be the primary team competitive mode for future Quake Champions esports tournaments. Familiarizing yourself with the Sacrifice mode now just might give you a leg up over the competition in future tournaments.
Sales and Discounts
Stack Social Star Wars Bundle – I absolutely love Stack Social, but not for games. It's a great resource for other tech-related things and odd gadgets. But today, I'm loving Stack Social for an entirely different reason. Today, Stack Social has five Star Wars video games on sale for only $14.99. The games include Star Wars: Knights of the Old Republic 1 and 2, plus Star Wars: The Force Unleashed – Ultimate Sith Edition, and a couple of other titles. Altogether the bundle is valued at $60, so consumers are getting 75% off. The sale ends tomorrow, so if you want to play these games, you're going to need to make the purchase quick.
PSN Weekend Flash Sale – The PlayStation Store has a rather extensive Flash Sale underway. If you're still getting some use out of your PlayStation Vita and PlayStation 3, then you'll likely appreciate all that this sale has to offer. From Doom, to Risk of Rain, there are tons of games marked down, including a few PlayStation VR games. The sale ends on Monday, May 15, at 11:00 AM (Eastern Time).
Humble Store Spring Sale – Humble Store has an amazing Spring Sale taking place. While the sale doesn't end until May 25, if you're looking for a great present for the gaming mother in your life, then you might want to check this one out. Stardew Valley, Outlast, Evoland II, Teslagrad, and many more have seen steep price cuts. No matter what your gaming preferences are, there's a little something for everyone in this sale.
Conventions
Ottawa ComicCon (Ottawa, Canada) – Stateside, the convention scene is still pretty abysmal this weekend. However, I feel compelled to mention a noteworthy convention taking place in Canada this weekend. If you're residing near the Canadian border, or if by the off chance you just so happen to be a Canadian resident, then this one is for you. Ottawa ComicCon is mainly about comics, however there are plenty of attractions for other fictional media fanatics. Mathew Lewis, the lovable Neville Longbottom of the Harry Potter franchise, is a guest of honor. George Romero, famous for his works in the horror film genre (and voicing himself in Call of Duty: Black Ops's Call of the Dead expansion), will also be in attendance. And if you're still not convinced, might I add that a few actors from the Watch Dogs 2 video game will also be present.
Esports Events
Call of Duty World League Global Pro League – Call of Duty World League enters Week 4 this weekend, with matches taking place on Saturday, May 13, and Sunday, May 14. We're still two weeks away from the playoffs, where the final two teams will compete for a shot at the $500,000 prize pool. This week, Group D, comprised of Optic, Red Reserve, Enigma 6, and Elevate, will face off to claim their spots in the playoffs. Tickets for the event are completely sold out, so your best bet is to watch online.
Heroes of the Storm Global Championship – There's quite a bit going on this weekend in the world of HGC. As we're in the midst of approaching the mid-season brawl, nine matches across the globe are taking place this weekend, starting today. HGC teams and Open Division teams will go head to head in a series of best-of-seven matches in the HGC Crucible. So if you're looking to watch a few high-stakes games to get your adrenaline pumping, then you're not going to want to miss these.
As For Me…
It's Mother's Day weekend, so I'll be spending the weekend with the most important woman in my life, my mom. Since she's coming to town, I'll likely end up spending time with a few members of her side of the family as well. If I'm lucky, my family will leave me be for a few hours on Mother's Day so I can enjoy my favorite hobby, and complete a few missions in Watch Dogs 2; but I'm not counting on it. So at the very least, I'll enjoy my family's company, and work on finishing a business website for my mother-in-law.
Have a great weekend, and an early Happy Mother's Day to all of the awesome gamer moms out there!