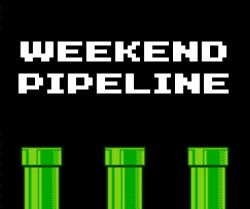 The weekend has arrived, and it's about damn time! Things have been hectic in the real world, and if you've been busy adulting all week long, and keeping up with the world news cycle, then you my friend, deserve a fun-filled break from reality. That's where we come in. We've got deals, betas, esports, and a convention. We've got everything but the greens, beans, potatoes, and tomatoes!
So pull up a chair, grab your planners, and pop open that glass of wine. Because we've got some intense weekend scheduling to do!
In-Game Events/Free Previews
Titan Souls – Twitch Prime is handing out another freebie this weekend, in the form of the retro- inspired Titan Souls. If you're already a Twitch Prime member, then you can go and snag your free game now. However, if you're not a Twitch Prime member, you can sign up for the free trial and claim the free game that way. The promotion started Thursday, May 18, and will end on Wednesday, May 24. So there's not much of a rush. But if you're in the market for a new game to play this weekend, then you'll want to grab this one sooner than later.
Dreadnought Open Beta – Dreadnought, an action game set in space, entered its Open Beta phase on the PC this week. Dreadnought is also in the works for the PS4, and publisher Grey Box launched a Closed Beta on Sony's system last month.
Pokemon Go Adventure Week – Grab your Pokeballs folks, because you're not going to want to miss out on this event! Starting yesterday, May 18, there has been an increased presence of rock-type Pokemon throughout the Pokemon Go universe. During this event, PokeStops will award players with an increased amount of items, and Pokeballs in the in-game shop have been discounted by 50%. Adventure Week will end on Thursday, May 25, at 4:00 PM (Eastern Time). So get out there and catch those Slugmas and Kabutos while you still can!
Xbox Live and Minecraft: Xbox One Edition All-Access – Xbox One owners are in luck this weekend, because Microsoft has decided to make Minecraft: Xbox One Edition accessible to Xbox One owners, Gold Membership or not. So what's the catch? It's a limited-time event, lasting from Thursday, May 18 to Sunday, May 21.
Additionally, those without a Gold Subscription will be allowed to play online with their friends in any game they own during the duration of this event. This part of the event spans both Xbox One and Xbox 360 consoles. So assuming that your Xbox 360 is still in use, you can finally enjoy the multiplayer benefits of a Gold Subscription, without having to make the monetary commitment.
Sales and Discounts
Civilization Weekend Sale – Win Game Store has a great sale going on this weekend. Select Civilization games have been marked down by as much as 80%. Per usual, Win Game Store has posted a handy countdown timer to let potential customers know when the sale will end. So if you're considering making a purchase, you'll want to decide soon.
Steam Weekend Deal – Dragon Ball Xenoverse 2 is on sale via Steam this weekend. The popular fighting game has been given a 50% price cut, dropping the price to $24.99. The sale lasts until Monday, May 22.
Devolver Digital Publisher Weekend – Elsewhere on Steam, a massive amount of quality games have been marked down by as much as 90% this weekend as part of the Devolver Digital Publisher Weekend. Games such as Hotline Miami, Serious Sam, Gods Will Be Watching, and Not A Hero, have all been subjected to huge discounts. If you like indie games, this a great way to stock up on them!
Conventions
Motor City Comic Con (Farmington Hills, Michigan) – The convention scene has been practically dead these past few weeks. While this weekend isn't much better, gamers residing near Farmington Hills, Michigan have a little something to look forward to. As you've probably guessed, Motor City Comic Con is a convention centering around the celebration of comic books. However, for gamers who'd like to attend, there will be a number of video game retailers present, a cosplay contest, and other gaming events that have yet to be announced. The convention starts today, May 19, and ends on Sunday, May 21.
Esports Events
Overwatch Alienware Monthly Melee – The Overwatch Alienware Monthly Melee takes place this weekend from Friday, May 19, to Sunday, May 21. This month's edition of the Overwatch Alienware Monthly Melee will be the last, as teams compete for a shot at the $6,000 prize pool. So far, Group A will be comprised of Team Liquid, LG Evil, and Yikes!, plus the qualifiers upper bracket winner. Group B consists of CLG, Immortals, Selfless, and the qualifiers lower bracket winner. The qualifying matches will take place on Friday, May 19, while the playoffs will occur on Sunday, May 21.
As For Me…
Per usual, my weekend will likely consist of errands and chores. However, I most certainly plan on practicing some video game style self-care over the weekend. So when I'm not preoccupied with grocery shopping and laundry, I'll be own my couch, drowning out the world around while playing Paladins, or huddled up in my office, playing South Park: The Stick of Truth, in preparation for South Park: The Fractured But Whole. Have a great weekend guys, and happy gaming!