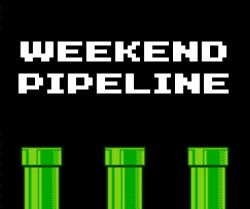 My fellow gamers, it's that time again! The weekend has arrived, and if we want to make the most out of it, then we must plan accordingly. Undoubtedly, some of you will probably spend your Friday night celebrating the holiday, which may or may not lead to a serious hangover in the morning.
But Cinco De Mayo only lasts for one day, so you'll want to map out the rest of your weekend activities in advance. Because let's face it, if you find yourself slouched over a toilet in a dingy dive bar tonight, and with your head banging like the rhythm of a dancehall beat tomorrow morning, you're likely not going to have the mental fortitude to effectively schedule in anything else.
In-Game Events/Free Previews
ROKH Closed Beta – This weekend, ROKH will begin a limited, Closed Beta, ahead of its May 16th Early Access release. The closed beta will allow players to explore and survive on Mars. ROKH is a survival game, set on the fourth planet from the sun. The mission of ROKH is to gather resources, and convert Mars from being a hostile planet into one hospitable for settlers from a dying Earth. Cooperative play is encouraged, by implementing trades, and bartering. ROKH is bought to us by a team comprised of the great minds behind games such as Half Life 2, Dishonored, and Assassin's Creed.
Tom Clancy's The Division Free Weekend – This weekend, Tom Clancy's The Division is free to play for PC, PlayStation 4, and Xbox One users. The event began on Thursday, May 4, and will end on Sunday at 4:00 PM for PC players, and on Monday at 3:59 AM for PlayStation 4 and Xbox One players (all times Eastern). Those who choose to take advantage of the free weekend event will have full access to the game. And if you like what you see, you'll have the option to purchase The Division at 65% off. But beware; you'll only have until May 15 to seize the deal. However, Xbox One players without a Gold subscription will need to make the purchase by May 8.
Pokemon Go Grass-Type Increase – Haven't been able to find that coveted Bulbasaur? Well, your luck is about to take a turn for the better. From Friday, May 5, to Monday, May 8, Pokemon Go will see an increase in Grass-Type Pokemon throughout the game. So if you've been looking to level up your Chikorita, now is a great time to catch 'em all. Additionally, if you're in the Charlotte, North Carolina area, Niantic is hosting its first major Pokemon event on Sunday, May 7. Players will venture out into the city, following along with an official map, highlighting PokeStops and Gym locations. Participants will also receive special stickers from Niantic, as an added incentive to get out and play.
Sales and Discounts
Mega Man Legacy Collection at Amazon – Amazon is at it again with the great deals. This weekend, the Mega Man Legacy Collection is only $6 if you get the digital version. Considering that Amazon is currently selling the physical version for $17.72, buying the digital version is a great alternative. The digital version usually retails on Amazon for $14.99, so this deal offers consumers a 60% discount.
BioShock Weekend Sale at WinGameStore – If you're looking to finally get into the BioShock series, WinGameStore has all three games, plus some DLC, on sale this weekend. Prices have dropped by as much as 75%. BioShock: The Collection for instance has seen a 73% price drop, being marked down to only $15.99. So if you'd like to traverse the turbulent waters of Rapture, or visit the not so friendly skies of Columbia, you'll want to take advantage of this deal while you still can.
Ducktales Remastered – If you're not interested in the Disney Afternoon Collection, but you'd still like to play Ducktales, Amazon comes to the rescue. Ducktales Remastered is on sale this weekend, for only $3.74. That's 75% off from its usual retail price. Although, keep in mind, this is only for the digital version. Still, it's a worthy investment.
Skylanders and Disney Infinity Clearance – Walmart has a ton of Skylanders and Disney Infinity sets on clearance this week. Skylanders Superchargers figures are as low as $2.88, while most sets are averaging around $14.96. Disney Infinity is pretty much dead, as all support has ended for the game. However, offline play is still very much a thing. So while retailers are scrambling to rid their shelves of Disney Infinity stock, now is the time to snag as many of these collectible figures as you can.
Conventions
Interestingly, and a bit unbelievably, gaming conventions are at a complete and utter standstill this weekend. I'd love to say that it gets better next weekend, but it doesn't. Be sure to check out Weekend Pipeline in the coming weeks for further updates.
Esports Events
DreamHack Open Tours – Like conventions, there's not a whole lot going on in the world of esports this weekend. However, now that DreamHack Austin is over, DreamHack Open Tours is set to begin, on Saturday, May 6 in France. The tournament will last until Monday, May 8, and competitors will go head-to-head for a shot at the whopping $100,000 prize pool. Official DreamHack Open titles are Counter Strike: Global Offensive and StarCraft II: Heart of the Swarm, so if you're looking to get your esports fix, you'll want to tune in.
As For Me…
As per usual, my weekend is looking rather dull. I'll likely continue working on a website for a client. And assuming that I have any free time, I'll continue my playthrough of Persona 4. Since my husband has been away for work all week, he's probably going to take over the TV in our living room. But if he doesn't, then I'll try to fit in some Watch Dogs 2, Paladins, or Kingdom Hearts HD 2.5 ReMix. As usual, have a great weekend, and happy gaming!