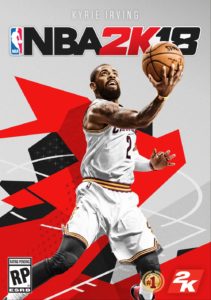 e very interesting. To add a little more spice to the proceedings, 2K Games announced today that Cleveland's Kyrie Irving will be the cover athlete for the Standard Edition of NBA 2K18. Shaquille O'Neal was previously announced as the cover athlete for the game's Legend Edition.
"It is well known that I'm an avid player of this series and I am honored to be the cover athlete of NBA 2K18," said Irving. "It's surreal to be featured on the cover and I can't wait to dominate on the virtual court with all of my fans this Fall."
"It's obvious that Kyrie isn't disappearing from the spotlight anytime soon, so we're thrilled to have him as our cover athlete, alongside Shaq for the NBA 2K18 Legend Edition," said Alfie Brody, the Vice President of Marketing for NBA 2K. "He's a more-than-worthy recipient of this honor, and joins so many other greats who were cover athletes before him."
The NBA 2K18 Standard Edition will come packed with a variety of in-game content including 5,000 Virtual Currency, 10 Weekly MyTeam Packs, a Kyrie Outfit Pack, and more. Players who pre-order the game will also receive the game four days early thanks to 2K's "Early Tip-Off Access" program.
NBA 2K18 will be released for the PC, PS3, PS4, Switch, Xbox 360, and Xbox One on September 19.