Aside from a rather shoddy Battle Mode, Mario Kart 8 set the gold standard for Nintendo's venerable franchise when it launched for the Wii U back in 2014. The racing game was already bursting at the seams with characters, courses, and customizable kart parts before the consolemaker expanded it with two DLC Packs and added crossover characters like Link and Animal Crossing's Villager. However, the public's poor reception to the Wii U lead to the sad realization that three times as many people had purchased Mario Kart Wii versus its sequel. So Nintendo has decided to re-introduce the game to a new audience on the Switch as Mario Kart 8 Deluxe… and with a real Battle Mode, too!
Platforms: Switch
Publisher: Nintendo
Developer: Nintendo
Genre: The Original Kart Racer… With a Real Battle Mode
Release Date: April 28, 2017
ESRB Rating: Everyone
Mario Kart 8 Deluxe offers all of the same options as its original Wii U incarnation from 2014. Recognizing that many players who purchase Deluxe also owned it on the Wii U, Nintendo has unlocked all characters and courses from the get-go, as well as the 200cc Class and Mirror Mode. All the DLC content, even the Mercedes Benz Pack, is also included at the start, and Nintendo added more than a dozen new kart parts and five new characters (Splatoon's Inklings, King Boo, Dry Bones, and Bowser Jr.).
But all of this is just a prelude to the return of Battle Mode. Yes, Mario Kart 8 technically had a Battle Mode, but the jousting-style minigame was a huge disappointment, and I'm still baffled as to why Nintendo decided to do that to one of the franchise's signature features. Thankfully, the Battle Mode in Mario Kart 8 Deluxe erases that horrible memory with multiple match types, all of which are exciting in their own way.
Handing a controller to four friends for splitscreen multiplayer is always a welcome option in Mario Kart, but the Switch's handheld capabilities also mean that local matches can be played wirelessly with up to eight consoles. And online play (which is currently free ahead of the launch of Nintendo's new online service this Fall) ups that number to 12.
Whichever number you're playing with, Nintendo really knocked it out of the park with Battle Mode's five different match types. The traditional "Balloon Battle" is back, as is the capture-the-flag gameplay of "Shine Thief," and the explosive action of "Bob-Omb Blast" (both of which debuted in Double Dash!!). Mario Kart 7's "Coin Runners" also opens up the cash register again, but I think I was most impressed by the brand new "Renegade Roundup."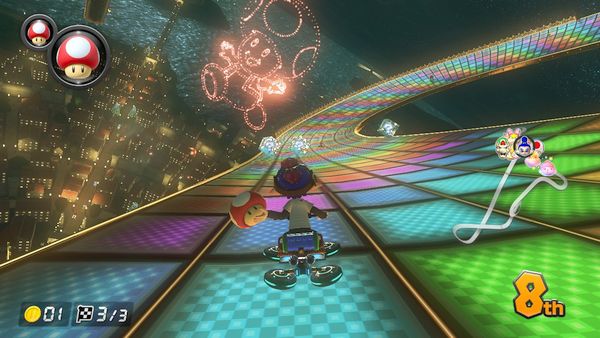 Mario Kart 8 Deluxe randomly selects the match type for online multiplayer, but I could play the cops-and-robbers-like "Renegade Roundup" all day (and if I could permanently filter out all Shine Thief matches, I'm not sure I'd miss it). One team becomes the Authorities, and they receive lights, sirens, and a Piranha Plant that can capture members of the other team, the Renegades. Players will race around the track, searching for or hiding from their opponents, and a Renegade is sent to jail when they're captured. However, the Renegades can also steal the key and breakout their teammates. "Renegade Roundup" is an absolutely thrilling three minutes, and it proves that Nintendo's still got it when it comes to creating a Battle Mode for Mario Kart.
Nintendo was blasted by a barrage of Blue Shells for Mario Kart 8's original Battle Mode on the Wii U, but they've fixed it completely for Deluxe. However, the consolemaker is still working out the kinks of creating a stable online service. During one recent online multiplayer session, I was disconnected at least half a dozen times (I honestly lost count) over a span of four hours. Sure, it was easy to jump back in, but it's rare for this to be a problem on the PS4 or Xbox One.
Hopefully Nintendo can sort out the online situation soon, but I'm still so amazed that I can take Switch games with me wherever I go. I don't know when I'll be able to just accept the Switch's dual console/handheld nature, but it still feels like a feature that's ahead of its time, and it works marvelously with Mario Kart 8 Deluxe. Whether you're playing it on the couch or away from your TV, the game is fantastic.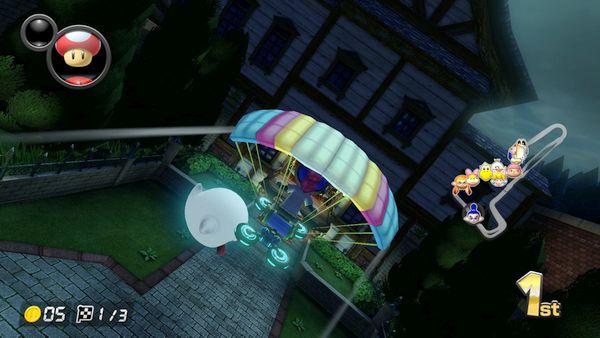 And that's because, for the rest of Mario Kart 8 Deluxe, Nintendo has decided that if it ain't broke, they're not going to fix it. There are a few tweaks to Grand Prix (players can now hold two items at the same time), and the whole game features slightly enhanced graphics (1080p on the Switch versus 720p on the Wii U), but it's otherwise the exact same game that it was in 2014… and I'm OK with that. Mario Kart 8 was a colorful explosion of kart racing goodness, and I've always been more amenable to the stylized visuals and intuitive controls of a Nintendo-produced title versus the usually grim "AAA" aesthetic and its more complicated controls.
The consolemaker seems to understand the opportunity for a new audience that the Switch gives them, and they grabbed hold of this idea with the inclusion of Smart Steering and Auto Acceleration. Both options (which can easily be turned off) give inexperienced players an assist with with the tight curves and long straightaways of Mario Kart 8's courses. They'll both come in handy for your next rooftop Switch party.
It took a few months before I really warmed up to Mario Kart 8 on the Wii U, but the updates and additions it's received over the years have made it into a great game, and the Battle Mode included in this Deluxe re-release practically makes it perfect. While most of it is three years old, Mario Kart 8 Deluxe is still one of the best games you can own for the Switch.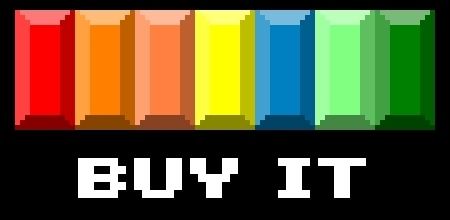 Review Disclosure: A retail copy of Mario Kart 8 Deluxe was purchased by Warp Zoned for the purposes of this review.