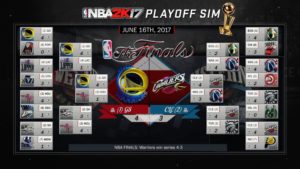 It didn't take seven games, but NBA 2K17's playoff simulation became a reality last night, and the Golden State Warriors won the NBA Championship.
It was a high-scoring series, and the Warriors closed it out in Game 5 with a 129-120 win over the Cleveland Cavaliers. The two teams have been trading championships over the last three years, with the Warriors winning it all in 2015, and Cleveland claiming victory last year. The difference this time appeared to be Kevin Durant, who signed with the Warriors in the offseason. Durant averaged 35.2 points per game in the series, and was named the Finals MVP.
Elsewhere in the sports world, EA's NHL 17 simulation didn't work out as well. As predicted, the Nashville Predators reached the Stanley Cup Finals, but they lost the series against the Pittsburgh Penguins.
Both franchises will get another chance this September with the upcoming release of NBA 2K18 and NHL 18.