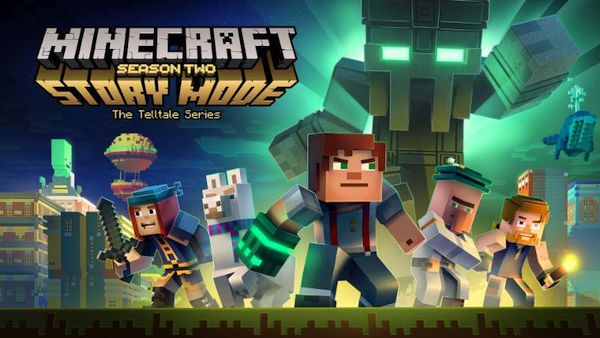 Telltale Games has announced they'll return to the world of Minecraft next month with the opening chapter of Minecraft: Story Mode Season 2. Jesse and the gang saved the world… so naturally it's time for more shenanigans:
Now that Jesse and the gang have vanquished the Wither Storm, saved the world, and become totally super famous heroes, life has gotten a bit more…complicated. With more responsibilities and less time for adventure, old friendships have started to fade — at least until Jesse's hand gets stuck in a creepy gauntlet that belongs to an ancient underwater temple. Together with old pals and new comrades alike, Jesse embarks on a brand new journey filled with tough choices, good times, and at least one temperamental llama.
Patton Oswalt (Male Jesse), Catherine Taber (Female Jesse), Ashley Johnson (Petra), and Scott Porter (Lukas) have all signed on to once again lend their voices to the episodic adventure series, and Telltale will also add their popular Crowd Play feature to Season 2 for players who want to share their decision-making with others. And speaking of decisions, choices from Minecraft: Story Mode will carry over into Season 2, but new players will be able to jump right into the story.
Minecraft: Story Mode Season 2 – Episode 1: Hero in Residence will be available to download for the PC, PS4, Xbox One, and mobile devices on July 11. A retail version will also be available this Fall.