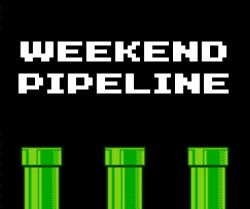 It's the beginning of June, which means that Summer is right around the corner. This also means that the E3 Expo is getting nearer as well. For this week's Weekend Pipeline, the convention scene is still pretty dang dry, but the sales are nice, and the esports are even better.
So if you're not planning on basking in the warm weather sun, then prepare to get your game on, because this weekend, there's more than enough to do.
In-Game Events/Free Previews
Roblox Heroes Event – Xbox One owners are in for a treat this weekend, in the form of a seasonal Roblox event. Those familiar with the popular game will be excited to know that as of yesterday, Thursday, June 1, players have the ability to play three hero-themed games within the world of Roblox for free. Participants will be able to win neat in-game prizes, and fulfill their fantasies of becoming a hero or villain. The event lasts until June 14, so you've got plenty of time to get in on the fun.
Sales and Discounts
Bundle Stars GTA Sale – Bundle Stars has a great Grand Theft Auto sale going on this weekend, dropping prices by as much as 71%. Included in the sale are Grand Theft Auto III, IV, and V, along with the popular one-off games Vice City and San Andreas. So if you're looking to recapture your youth by playing through some of the older Grand Theft Auto games, this is a great way to get you started.
Virtual Reality Sale – Indie Gala has a great Virtual Reality Bundle on sale. However the sale ends soon, so you'll need to snag this one quick. The Bundle can be had for as cheap as $1, but if you're looking to pick up everything, you're going to need to spend at least $3.49.
GOG Weekly Sale – If you're in the mood for a few games with a female lead, then this week's GOG sale is definitely worth checking out. While you won't find any major releases among the selections, great games such as Syberia and Still Life are deserving of your consideration. There's a little over two days left to claim your games, so you'll want to make your decision soon.
Conventions
So… about this weekend's conventions… we've got nothing. Sadly, the stateside convention scene continues to look rather grim. Why are the conventions so sparse lately? I have no idea. But I do know that the E3 Expo, along with a few other lesser known conventions are on the way. So stay tuned for more information, next week.
Esports Events
NA LCS Summer Split – The North American League of Legends Summer Split kicks into high gear this weekend, with the first two matchups taking place today. Cloud9 faces off against CLG this evening at 6:00 PM, while IMT will go head to head against Phoenix1 later tonight at 9:00 PM. The last of this weekend's matches will take place on Sunday, June 4, at 6:00 PM (all Eastern Time).
ESL Pro League Season 5 Finals – The ESL Pro League Season 5 Finals are set to take place this weekend on Saturday, June 3, and Sunday, June 4 in Dallas, TX. This event marks the return of competitive Counter-Strike: Global Offensive to Dallas. Surprisingly enough, tickets are still available, and fairly cheap. So if you're in the Dallas, Texas area and looking for some fun, you'll want to secure your tickets before they're sold out.
Gears Pro Circuit Las Vegas Open – Grab your Lancers, and prepare to kill some Locusts because Gears Pro Circuit is going to Vegas! This weekend, pro Gears of War players will face off for a shot at a $300,000 prize pool in the city of sin. Viewers at home can get in on the fun, by watching the tournament for a chance to claim a few exclusive Emerald Phantom weapon skins, and the opportunity to win a Limited Edition Gears 4 Xbox One bundle, along with a slew of other prizes. The event will last from Friday, June 2, until Sunday, June 4. Be sure to tune in for a shot at winning these awesome giveaways!
As For Me…
The past few weeks have been hectic for me, and all I could think about doing was securing some quiet time, alone with my vape, and Watch Dogs 2. However, I'm exhausted. So when I'm not sleeping, I'll be putting the finishing touches on a clients website, watching a little of the Gears Pro Circuit Las Vegas Open, and showing my Xbox One some much deserved affection. Also, the carnival is in town. So on Sunday, my family and I will venture to the park to enjoy the festivities. Have a great weekend, and happy gaming!