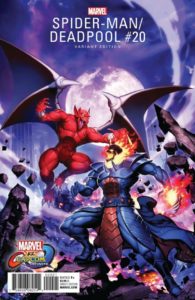 Capcom and Marvel have announced that Firebrand and Dormammu will be part of Marvel Vs Capcom: Infinite's roster of playable characters when it launches on September 19.
Firebrand first appeared in the Marvel Vs Capcom series in Marvel Vs Capcom 3, and is best known to fans as the protagonist of the Gargoyle's Quest franchise. Dormammu also made his debut in the third game of the crossover series, and the devilish character has tangled with both Dr. Strange and Spider-Man in the Marvel Universe.
The pair will be featured on a special variant cover of Spider-Man/Deadpool #20, and according to Game Informer, Capcom will unveil the first gameplay trailer for the chracters at this year's Gamescom expo.