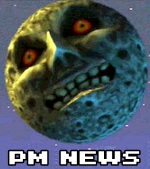 Two very different multiplayer games were unveiled today as Lucid Games announced their vehicular combat game, Switchblade, and Jackbox Games pulled the lid off their next party game collection, The Jackbox Party Pack 4.
New trailers and details for both can be found after the break.
---
Blur and Geometry Wars veterans return with four-wheeled multiplayer combat in PS4's Switchblade [PlayStation Blog Europe]
Lucid Games is the famed developed behind Blur and Geometry Wars 3: Dimensions, and their next game will combine the features from both of these titles into a MOBA-like car combat game known as Switchblade. Players will be able to swap out their vehicle at any time for tactical play, and the free-to-play game will be available to download for the PC and PS4 soon:
Switchblade is like experiencing war but at 100mph! It is an intense 5v5 future sport that combines high octane action combat with an ever-shifting array of strategic choices as the battle unfolds.

Seamlessly switch between different heavily armed vehicles at any time to create endless tactical choices. Chase down a rival in a speedy fighter, then swap to a heavy-duty battlewagon to attack your competitors base whilst your teammates switch between healers & artillery to back you up.

Yep you heard that right, one of unique gameplay features of Switchblade is that you choose two vehicles before your match and you can swap between them at any time. This is critical in the game as over the course of the match you encounter many different scenarios emerging from the constantly evolving battle happening around you.

Switchblade has loads of depth in the gameplay, but the the overall objective for each match is very simple, you and your teammates have to try to destroy your opponents base.
---
COMING SOON: The Jackbox Party Pack 4 [YouTube]
Fans of multiplayer games also got their first look at The Jackbox Party Pack 4 today, which will include "FIVE AND A HALF" new games when it launches for the PC, PS4, Xbox One, Switch, and Fire TV later this year:
From the makers of Quiplash, Drawful, and You Don't Know Jack, it's the fourth collection of go-to party games from Jackbox Games! The biggest and fourthiest addition to this storied party game franchise features not five but FIVE AND A HALF crowd-slaying games!

Fibbage 3 (2-8 players)
The blanking fun sequel with all-new question types and the game mode Fibbage: Enough About You where you guess the weird facts about your friends.

Survive the Internet (3-8 players)
The web-based frame game where you twist your friends' "online" comments in hilarious ways.

Monster Seeking Monster (3-7 players)
The spooky date-a-thon where you message and date fellow monsters with special powers.

Bracketeering (3-16 players)
The deranged debate match where you place smart bets on stupid arguments.

Civic Doodle (3-8 players)
The one-up art game where you compete to improve the town murals.

Play using your phones, tablets or computers. No extra controllers needed! Plus EVEN MORE features just for streamers!