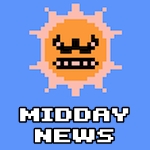 Bizarro worlds are the order of business in this midday update, as Telltale Games has announced that Minecraft: Story Mode Season 2 – Episode 3: Jailhouse Block will be available on September 19 and Terrible Toybox has confirmed that Thimbleweed Park will come to the Switch on September 21.
Read all about both games after the break.
---
Minecraft: Story Mode – Season Two Returns September 19, See Episode Three Trailer Now! [Telltale Games]
Minecraft: Story Mode Season 2 – Episode 3: Jailhouse Block will be available to download for the PC, PS4, Xbox One, and mobile devices on September 19. A new trailer for the game's latest chapter has been embedded above:
Having bested The Admin's icy obstacles, Jesse and the gang are rewarded with a one-way trip to The Sunshine Institute, a nigh inescapable prison buried at the bottom of the world and filled with all manner of miscreants. In order to make it back home, Jesse has to find a way to break out, even if that means employing a few desperate measures…
---
Good news: On Sept 21, Thimbleweed Park will come to Nintendo Switch [Press Release]
Ron Gilbert and Terrible Toybox will finally bring Thimbleweed Park to the Nintendo Switch on September 21. The adventure game was partially inspired by Gilbert's Maniac Mansion, and it was built from the ground up to appeal to fans of "Twin Peaks, The X-Files, Stranger Things, jokes, puzzles, and vacuum tubes":
Okay, but what the heck *is* Thimbleweed Park?
Oh, you haven't heard about this mystery / comedy game from Ron Gilbert and Gary Winnick, the creators of classic adventures Monkey Island and Maniac Mansion? Well then, let's set the scene:

October 15, 1987. A dead body is rotting under the bridge, but Thimbleweed Park's 81 (sorry, make that 80) inhabitants have bigger concerns. The town's founder also died recently, under mysterious circumstances. The air is buzzing with signals. The hotel appears to be haunted. A giant slice of pizza roams the streets. And something sinister is going on behind the locked gate of the abandoned PillowTronics™ factory — something that could consume us all.

Two federal agents, a washed-up insult clown, an aspiring game developer, and the ghost of a pillow salesman have been drawn to this weird, rundown place. They don't know it yet, but they're deeply connected — and they're being watched. Switch* between them to explore the town, solve puzzles, and unravel the surreal mystery at the heart of it all. As you'll see soon enough, in a town like Thimbleweed Park a dead body is the least of your problems.

*No pun intended.