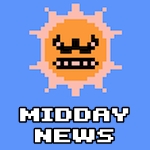 Two beloved indie games will have new platforms to call home in the next few weeks. N++ will soon make the leap to the Xbox One, while Inversus will shoot up the Xbox One and the Switch in the very near future.
You can find out exactly when both games will launch (and watch two new trailers) after the break.
---
N++ is coming to Xbox One on October 4, 2017! [Metanet Software]
After previously appearing on the PS4 and PC, Metanet Software has announced that N++ will make its Xbox One debut on October 4:
You are going to love it, Xbox One players — it takes everything that rocked about N+ and brings it to the next level. 4340 levels of incredible, hand-crafted and finely tuned levels across a gigantic Solo campaign (and brand new Hardcore Mode if that's too easy for you), intense eSports-ready local competitive multiplayer and ingenious local co-operative multiplayer that will have you and your friends alternately praising and cursing each other for months. Or years! This game is so huge you could be playing it for a very long time — but with 100+ glorious colour schemes and a blistering 63-song soundtrack, it won't ever get boring!
If you're unfamiliar with the insane platforming offered up by the N series, take the time to view the new trailer embedded above.
---
Inversus Newsletter – September 20, 2017 [Hypersect]
Another highly-anticipated indie will also be available to download for the Xbox One on October 4… Inversus. But first, Hypersect's monochromatic shooter will be added to the Switch eShop on September 28. The developer has also confirmed that PC and PS4 players will receive the "Deluxe" update as a free download this Fall:
Let's get straight to it. Inversus Deluxe is launching on Nintendo Switch on September 28th and Xbox One on October 4th!

As you may recall, all of the current players on PlayStation 4 and Steam will be getting access to Inversus Deluxe as a free downloadable expansion. But when? The plan is to publish the Steam update alongside the Nintendo Switch launch on the 28th. The PS4 patch doesn't have an exact date yet, but it will be in early November. I'll be sure to send out a reminder once I have it locked in.