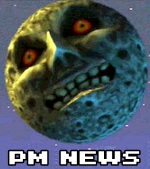 A pair of games are on the move this afternoon. Capcom has announced that Okami HD will be released for the PC, PS4, and Xbox One this year, and Frictional has said that Soma is in development for the Xbox One.
You can learn more about both games after the break.
---
Okami HD journeys onto PS4, XB1 and PC this December [Capcom-Unity]
The beloved Okami HD will make the leap to the PC, PS4, and Xbox One this December with enhanced visuals and a new widescreen presentation:
Rooted in Japanese folklore, Okami has you taking the on the role of Amaterasu, the sun goddess, as she embodies the legendary white wolf Shiranui. Your wolf part can tackle, and use a number of different weapons—you're a legendary wolf after all—while your goddess side brings to the table divine powers of the Celestial Brush, a powerful way to breathe new life to the world around you.

In addition to the three platforms mentioned in the headline, you'll also now be able to experience the art and joy of Okami HD with beautiful 4K graphics on Xbox One X, PS4 Pro, and supported PC hardware. Speaking of visual settings, you can now play the game in a modern widescreen format, or if you prefer, you can play in the original 4:3 screen ratio. Fans of the original release, rejoice: we also brought back the original loading screen mini-game where you can earn bonus demon fangs that can be traded for in-game items.
Okami HD will be released for the PC, PS4, and Xbox One on December 12. A new trailer for the game has been embedded above.
---
Frictional's excellent sci-fi horror game Soma is coming to Xbox One [Eurogamer]
Frictional Games has confirmed they'll also release their scary sci-fi adventure, Soma, for the Xbox One. There's currently no release date, but we should learn more about its new destination soon:
Philosophical sci-fi horror game Soma, Frictional Games' 2015 successor to Amnesia: The Dark Descent, is coming to Xbox One.

While no release window has been announced, this is still good news for those without a PS4 or capable computer as Soma was one of the smartest and most interesting sci-fi tales of the last few years. It even made some really interesting narrative design decisions predicated on player choice, taking full advantage of the interactive medium – though to explain in any more detail would be a spoiler.