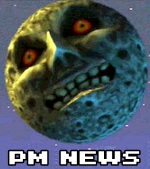 Are you ready for more Minecraft? Nintendo and Mojang teamed up to surprise launch Minecraft: New 3DS Edition on the Nintendo eShop earlier this week. The sandbox game is available to download exclusively for the New 3DS and comes bundled with five Skin Packs and two Texture Packs.
Other games available to download this week include Metroid: Samus Returns (3DS), an enhanced remake of 1991's Metroid II: Return of Samus; NBA 2K18 (Switch), the latest basketball sim from 2K Games; and Earthlock: Festival of Magic, an RPG from Snowcastle Games.
You can learn more about all of this week's additions to the Nintendo eShop after the break.
---
Nintendo Download: The Galaxy is NOT at Peace… [Press Release]

Nintendo eShop on Nintendo Switch

NBA 2K18 – The highest-rated annual sports game of this console generation comes to Nintendo Switch. Test your skills against friends or RUN THE NEIGHBORHOOD with your MyPLAYER on the Road to 99. NBA 2K18 will be available in Nintendo eShop on Sept. 15 and in stores on Oct. 17.

Robonauts – The action combines familiar arcade shooting gameplay with a unique possibility to switch gravity. Colorful graphics appeal to both younger and adult players while first-class music by Simon Viklund makes the adventure feel even more epic. Robonauts will be available on Sept. 15.

Semispheres – Semispheres is a meditative parallel puzzle game that places dual realities at the heart of its challenge. Its unique single-player split-screen mechanic challenges your brain by putting you in control of two characters at the same time. Your left and right side must work together to unfold the mystery by solving clever puzzles in an entrancing ambience. Using portals and other abilities to avoid sentries, devise and execute your plan, reuniting the parallel worlds of Semispheres.

Beach Buggy Racing – Drive into an action-packed, surprise-filled world of off-road kart racing mayhem. Race against a field of rival drivers, each with unique personalities and special abilities. Build a collection of crazy powerups, like Dodgeball Frenzy, Fireball, and Oil Slick. Unlock and upgrade a variety of cars, from dune buggies to monster trucks. Test your skills in 6 different game modes on 15 imaginative 3D race tracks, against a pack of tropical-loving rivals with a serious case of road rage!

Kingdom: New Lands – Kingdom: New Lands builds upon the award-winning gameplay and mystery of Kingdom by introducing an abundance of new content to the IGF-nominated title while maintaining the simplicity and depth that legions of monarchs have come to experience and enjoy. Travel to the New Lands and welcome the deluge of new mounts, merchants, and vagrants that call these isles home, but be wary of the new obstacles that threaten your arrival — for not just the greedy creatures block your way but even the environment itself can defeat you.

36 Fragments of Midnight – Your task is to find them, and take them back, but it won't be easy. In this procedurally generated platform game, you have to avoid deadly lasers, circular saws and spikes to collect all the Fragments, to get their greatest gift. Do you have what it takes to collect all?

Quest of Dungeons – Quest of Dungeons is a turn-based dungeon crawler game: a roguelike featuring a good old 16-bit, retro artistic look. An evil Dark Lord has stolen all the light, so your mission is to enter his lair and defeat him. By playing as either a Warrior, a Wizard, an Assassin or a Shaman, you have to traverse dungeons, defeat enemies and loot everything you can in order to survive. You can learn new skills in Tomes you find along the way and buy/sell items at shops.

Spin Master – Spin Master is a side-scrolling action game released by Data East in 1993. The adventurer Johnny along with his best friend Tom will use a large variety of weapons and attacks in order to retrieve his beloved and the stolen treasure map from the mad scientist Dr. De Playne.

Nintendo eShop on Nintendo 3DS

Metroid: Samus Returns – Explore a hostile alien planet as legendary bounty hunter Samus Aran. Her mission? Terminate the Metroid menace in a masterful reimagining of her 1991 Game Boy adventure. This intense, side-scrolling action platformer revitalizes classic gameplay with stunning 3D visuals and a wide range of new content sure to please both new and veteran players. The Metroid: Samus Returns game will be available on Sept. 15.

Minecraft: New Nintendo 3DS Edition – Fans of Minecraft will have another way to play the hit creation game when it comes to New Nintendo 3DS systems. This portable version of the game comes with Survival and Creative modes, five skin packs and two texture packs. Minecraft: New Nintendo 3DS Edition is available now in Nintendo eShop. The packaged version will launch at a later date.

Percy's Predicament Deluxe – Percy's Predicament Deluxe is a single player game in which you control Percy Penguin, who has become trapped within a magical orb. You must navigate the course and collect all the fish before the time runs out!

Nintendo eShop on Nintendo Wii U

Earthlock: Festival of Magic – Earthlock is an adventure RPG inspired by the classic 3D RPGs of the late 90's, with a fresh take on turn based combat and character progression. Enter a beautiful world haunted by its fateful past and join a party of unlikely heroes on their journey to rescue Amon's uncle from an ancient cult and uncover the secret of Earthlock.

Vigilante – Thugs have kidnapped your beloved Madonna, and it's up to you to become a Vigilante. Fight your way into enemy territory to get her back! Enemies attack you with weapons like iron pipes, chains, guns, and motorcycles. To fight back, you can punch, kick, or use the "nunchaku" item that appears in the stage. Use each of your attacks effectively to defeat your enemies. To clear a stage, defeat the boss that awaits you at the end. Fight your way through exciting stages that include the City Streets, Junkyard, Brooklyn Bridge, and the Backstreets.