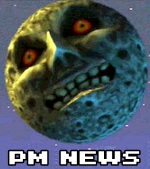 Ubisoft's "incubator" for small experimental projects, Reflections, is back with another new game next week. And NIS America has partnered with the creator of El Shaddai: Ascension of the Metatron to bring his next game to a North American audience.
You can read all about both announcements after the break.
---
Atomega – Grow, Shrink, and Shoot Your Way to Victory on September 19 [UbiBlog]
Ubisoft and Reflections will release Atomega for the PC on September 19. The online shooter is all about obtaining mass, which you can see in the trailer embedded above.
In a world where reality is rapidly dissolving and the universe is coming apart, what's an advanced post-biological lifeform to do? In Atomega, these lifeforms compete in arenas to gain mass, either by collecting it peacefully or blasting their opponents apart. The more mass you gain, the more your lifeform will evolve along a diverse spectrum from nimble Atom to godlike Omega. Mass is the key to victory in Atomega, a new online first-person shooter from the team at Reflections, the Ubisoft studio that created Grow Home and Grow Up.
If Atomega strikes your fancy, you might want to know it'll be available at a budget price ($9.99).
---
The Lost Child Will Be Released for PS4, Vita in 2018 [NIS America]
NIS America has announced plans to publish The Lost Child, an RPG spinoff of 2011's El Shaddai: Ascension of the Metatron. It'll be released for the PS4 and Vita in 2018, and the first trailer has been embedded above:
Occult journalist Hayato Ibuki encounters a strange girl during his investigations into a series of mysterious suicides in Tokyo. She implores that Hayato must live, before bestowing upon him a mystical device that allows him to capture celestial and arcane creatures. He is now thrust into a world beyond our own, home to horrific monsters and celestial beings. In it, he must delve into dungeons called Layers and solve the mystery of the device. Where his journey leads him could decide the fate of the our world…