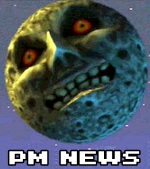 Switch owners will get the chance to download more than half a dozen new games in this week's update to the Nintendo eShop.
Things start off with SteamWorld Dig 2, Image & Form's side-scrolling sequel, and Thimbleweed Park, the latest point-and-click adventure from Ron Gilbert. Beginning tomorrow, September 22, Switch owners will be able to download WB Games's The Lego Ninjago Movie Videogame, an enhanced and expanded Pokken Tournament DX, and Bandai Namco's Dragon Ball Xenoverse 2.
The new releases keep rolling next week with side-scrolling shooter Sine Mora EX on September 26 and an "Arcade Archives" re-release of Mario Bros. on September 27.
The 3DS side of Nintendo's digital storefront will add its own Pokemon re-release this Friday. Pokemon Gold Version / Pokemon Silver Version will be available to download beginning September 22.
You can learn more about all of this week's additions to the Nintendo eShop after the break.
---
Nintendo Download: The First Pokemon Game on Nintendo Switch! [Press Release]

Nintendo eShop on Nintendo Switch

Pokken Tournament DX – Take direct control of one of more than 20 prized Pokemon fighters to defeat other Pokemon in arena fights. Call upon Support Pokemon to assist in the fight, then unleash your Pokemon's unique Burst Attack to climb atop the ranks. With new modes and new ways to battle with friends*, this is your chance to become champion of the Ferrum Region! The Pokken Tournament DX game will be available on Sept. 22.

SteamWorld Dig 2 – The SteamWorld Dig 2 game takes you on a platform mining adventure. When an old trading town is struck by mysterious earthquakes, it's up to a lone steambot and her unlikely companion to uncover what trembling terrors lie beneath. Dig your way underground and explore vivid worlds riddled with treasure, secrets and traps.

Thimbleweed Park – Welcome to Thimbleweed Park. Population: 80 nutcases. A haunted hotel, an abandoned circus, a burnt-out pillow factory, a dead body pixelating under the bridge, toilets that run on vacuum tubes… you've never visited a place like this before. Five people with nothing in common have been drawn to this rundown, forgotten town. They don't know it yet, but they are all deeply connected. And they're being watched.

The Lego Ninjago Movie Videogame – Play as your favorite ninjas, Lloyd, Jay, Kai, Cole, Zane, Nya and Master Wu to defend their home island of Ninjago from the evil Lord Garmadon and his Shark Army. Master the art of Ninjagility by wall-running, high-jumping and battling the foes of Ninjago to rank up and upgrade the ninja's combat skills. Only in the Lego Ninjago Movie Video Game will you experience the film across 8 action packed locations each with its own unique Challenge Dojo. And with the Battle Maps, play against friends and family in competitions for up to four players! The Lego Ninjago Movie Videogame will be available on Sept. 22.

Dragon Ball Xenoverse 2 – Become a Time Patroller in order to preserve Dragon Ball's history in this unprecedented experience. You are the protagonist! Stand with Goku and his friends as you battle a new enemy that has been warping Dragon Ball's history. Fight alongside famous fighters from Z, Super, GT, and more, including movie-only characters like Turles, Broly, and Janemba, the mysterious Masked Saiyan, and many others. Dragon Ball Xenoverse 2 will be available on Sept. 22.

Sine Mora EX – Sine Mora is a side-scrolling shoot'em up that provides a unique challenge, where time is the ultimate factor. Mixing classic shooter sensibilities with contemporary presentation, Sine Mora is a gorgeous shoot'em up offering both a Story Mode that weaves an over-the-top tale and an Arcade Mode that provides deep, satisfying gameplay to challenge fans of the genre. With many ways to manipulate time, Sine Mora features over 50 weapon combinations to complete each beautiful stage that fits to the player's skills with scaling difficulty. Sine Mora EX will be available on Sept. 26.

Arcade Archives Mario Bros. – Mario Bros. is an arcade platformer released by Nintendo in 1983. It's the first game that used Mario in the title. Control Mario or Luigi in order to defeat the enemies coming out of pipes from below – turn them over and then defeat them! In the two-player mode, both players can choose to work together or work against each other and enjoy the game in a myriad of ways. Arcade Archives Mario Bros. will be available on Sept. 27.

Art of Fighting – Art of Fighting is a fighting game released by SNK in 1992. Ryo Sakazaki and Robert Garcia fight against numerous enemies to to free Yuri Sakazaki who was kidnaped by a mysterious person.This game is known as an ambitious title via the introduction of spirit gauge and representation on characters of the damage received by the enemy.

Soldam: Drop, Connect, Erase – Dispatch Games brings back the Jaleco arcade classic with, Soldam: Drop, Connect, Erase. The game has been refreshed with updated graphics and gameplay, but retains its arcade charm with its catchy music and unique style that have been fan favorites for many years. Players rotate and drop the Soldam fruits to match colors. Keep connecting the same colored Soldam to form an entire row and erase. Use flanking methods to change the colors of previously dropped Soldam to your advantage. Strategize your next move and maximize that score.

Nintendo eShop on Nintendo 3DS

Pokemon Gold Version / Pokemon Silver Version – When initially launched on the Game Boy Color system, the Pokemon Gold Version and Pokemon Silver Version games continued to expand the Pokemon universe, adding 100 Pokemon, held items, Pokemon eggs and real-time events thanks to an internal game clock. Now, a new feature lets you trade and battle Pokemon in 2D using local wireless on the Nintendo 3DS family of systems. Pokemon Gold Version and Pokemon Silver Version will be available on Sept. 22.

36 Fragments of Midnight – This time Midnight's friends lost of their Star Fragments! Your task is to find them, and take them back, but it won't be easy. In this procedurally generated platform game, you have to avoid deadly lasers, circular saws and spikes to collect all the Fragments, to get their greatest gift. Do you have what it takes to collect all?

Guide the Ghost – In this exciting game, you must help your friendly yellow ghost get through all the obstacles. Be careful, hit a wall and it's game over!

Frutakia 2 – Frutakia is back and better than ever! Match 3 or more cute animals and level up in the 3rd dimension! Go ahead and move any row up or down! We dare you to discover its ultra-addictive gameplay, play once and that's it… Simple and smart gameplay, ideal for short periods of time.

Nintendo eShop on Nintendo Wii U

Chew Man Fu – It's up to you as an apprentice female monk to free the towers and lift Chew's curse to bring peace and fried rice back to the land once ruled by the Egg Roll Dynasty. The rules are simple! Your objective is to clear each round by pushing or pulling four colored orbs onto their matching colored tiles. Beware the sorcerer's minions in the tower who stand in your way! Kick the orbs to take your enemies out or to break down walls! Overcome the obstacles and place the orbs on their respective tiles!

Shockman – It's been two years since Arnold and Sonya were made into Shockmen. A message from the professor to return to their bodies has them head to his laboratory, but they are ambushed by a mysterious enemy along the way. After narrowly defeating the enemy, they catch a TV news flash announcing the Ryo Empire invasion. They find that the professor's been abducted and set out to rescue him.