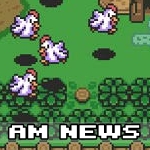 It's Tokyo Game Show time, and we've learned some fresh new details about the launch of Capcom's Monster Hunter: World and an enhanced remake of Goichi "Suda 51" Suda's The 25th Ward: The Silver Case.
Both are set to launch in 2018, but we've got new trailers for both after the break.
---
The 25th Ward: The Silver Case Headed to NA and EU in 2018! [YouTube]
As one of the earliest titles in Suda 51's oeuvre, The 25th Ward: The Silver Case has never been available in North America before. But that all changes in 2018, when NIS America will release an enhanced and expanded remake of the visual novel for the PC and PS4:
It is five years since the events of 1999's "The Silver Case," set in the new 25th Ward that arose in the bayside area of Kanto. In a room of the "Bayside Tower Land" apartment complex, a woman is found murdered under mysterious circumstances. This sets off a series of seemingly random events bridging across multiple protagonists including The Silver Case's Morishima Tokio. With all viewpoints assembled, a truly shocking pattern emerges…

Available for the first time outside Japan, The 25th Ward: The Silver Case is presented with completely rebuilt HD assets and additional content not found in the original version.
---
Monster Hunter: World gets TGS 2017 trailer, release date, Collector's Edition and more! [Capcom-Unity]
Monster Hunter: World is another highly-anticipated 2018 launch, and Capcom confirmed that the game will be available for the PS4 and Xbox One on January 26 (it'll also be released for the PC at a later date). For the serious fan, the publisher also unveiled the contents of the Digital Deluxe Edition and the Collector's Edition:
DIGITAL DELUXE EDITION
This edition includes the digital version of the game, along with a variety of additional communication and customization options. You'll get 3 new gestures, 2 sticker sets, 1 new face paint and 1 new hairstyle. And they all go really well with the Samurai Set, which is also included in this package, and can be used to change the looks of any armor set. The PS4 version of the Digital Deluxe Edition also includes 14 weapon-themed PSN avatars.

The contents for the Digital Deluxe Edition will also be available for purchase separately on January 26.

COLLECTOR'S EDITION
This one is a must-have for any Monster Hunter collector out there. The North American version, shown above, comes with a physical version of the game, plus extra contents of the Digital Deluxe Edition (Samurai Set, 3 gestures, 2 sticker sets, face paint and hairstyle), a 32-page hardcover art book, a digital soundtrack code and a high-quality statue of the flagship monster, Nergigante!