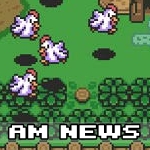 Captain America rather famously socked Adolf Hitler in the jaw back in the 1940s, but Wolfenstein's BJ Blazkowicz has a more extreme reaction to finding Nazis on American soil in an alternate 1960s. And Blazkowicz's love of heavy artillery is actually rather similar to Doomguy's reaction to the forces of Hell on Mars, which will be available for Switch owners very soon.
You can find Wolfenstein II: The New Colossus's Launch Trailer and Doom's launch date on the Switch after the break.
---
Launch Trailer – Wolfenstein II: The New Colossus [YouTube]
The Nazis have taken over America in Wolfenstein II: The New Colossus, and that doesn't sit well with BJ Blazkowicz. Bethesda has unveiled an amazing Launch Trailer for the further adventures of their square-jawed hero, and he's got just one thing to say to Hitler's troops… "No More Nazis":
Memo to the Nazis occupying America in The New Colossus: You messed with the wrong country.

With Wolfenstein II releasing next Friday, it's time to get fired up and fight back. As BJ Blazkowicz, you'll be rallying the Resistance in order to retake your homeland in MachineGames' sequel to their critically acclaimed shooter.

Check out the launch trailer for a glimpse of what awaits any Nazi foolish enough to stand in Blazkowicz's way.
Wolfenstein II: The New Colossus will be released for the PC, PS4, and Xbox One on October 27. It'll also be available for the Switch in 2018.
---
DOOM on Nintendo Switch – id Software Developer Interview [YouTube]
Bethesda and id Software have announced that Doom will officially launch for the Nintendo Switch on November 10:
In a new id Software developer video released today by Nintendo, creative director Hugo Martin and executive producer Marty Stratton discuss the many features that players will experience in DOOM on Nintendo Switch, including the full single-player campaign (with all difficulty modes), Arcade Mode, and the entire suite of Multiplayer maps and modes, including all previously released DLC content. They also go into further depth about working with developer Panic Button to ensure DOOM on Nintendo Switch feels as fast, brutal, and true to the experience gamers have loved on other platforms.