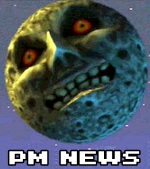 Extra! Extra! The Nintendo Switch is a massive hit!
OK, that's not exactly news. But Nintendo did announce sales figures for their latest console today, as well as unveiled a brand new system update.
You can read all about both stories after the break.
---
Nintendo Systems Claim Two-Thirds of September Video Game Hardware Sales [Press Release]

The Nintendo Switch has been a big hit with gamers across the world since its launch in early March. But today, Nintendo confirmed that their latest console has sold more than two million units in North America so far:
In September, the Nintendo Switch system was once again the top-selling current-generation console hardware, according to the NPD Group, which tracks video game sales in the United States. This marks the third straight month that Nintendo Switch has been No. 1, and the fifth time overall in the seven months since its launch. Nintendo Switch has already surpassed 2 million units sold in the U.S. alone, and has yet to go through its first holiday shopping season.
According to Nintendo, the total sales for the Switch, 3DS, and Super NES Mini accounted for two-thirds of all console sales in the month of September. It's unknown if their public relations department dropped a giant mic after writing that sentence. I'm going to assume that they did.
---
Nintendo Switch update brings video capture and more [Nintendo]
Nintendo pushed out the Switch's latest system update this morning, and players can now record short video clips of select games and transfer their save data to another Switch console:
The latest system update (4.0.0) for the Nintendo Switch console is here, bringing with it the ability to record 30-second video clips and share your great gaming moments with friends.
The video capture option is currently available in The Legend of Zelda: Breath of the Wild, Mario Kart 8 Deluxe, Arms, and Splatoon 2.