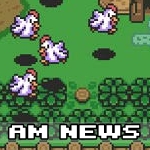 More re-releases are coming to the Nintendo Switch this Fall, and that means updates for Super Meat Boy and both Resident Evil Revelations games.
You can learn more about Super Meat Boy's Switch debut and new minigames for both Resident Evil Revelations games after the break.
---
Super Meat Boy is Coming to Switch This Year [Twitter]

Team Meat has announced that their ultra-hard platformer, Super Meat Boy, will be released digitally for the Nintendo Switch this year:
Yes. SMB on Switch will happen this year. Physical Switch (probably) next year. https://t.co/A5eYkfls81

— Team Meat (@SuperMeatBoy) October 18, 2017
As you can see from the Tweet embedded above, a physical edition of the game will also be available sometime in 2018.
---

Both Resident Evil: Revelations have a new mini-game on Switch [Destructoid]
Capcom has announced plans to add exclusive retro-themed minigames to Resident Evil Revelations and Resident Evil Revelations 2 for their Nintendo Switch launch. According to Capcom, the minigames will give players additional Battle Points and Gold in each game's Raid Mode
Revelations 1's game is called "Ghost Ship Panic" and it's a vertical shooter of sorts. The sequel has a more interesting take. It's called "Ghouls 'n Homunculi" — a riff on the Capcom-developed Ghosts 'n Goblins.
Resident Evil Revelations and Resident Evil Revelations 2 will both be released for the Switch on November 28.