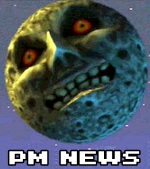 The Nintendo Switch continues to roll through the Fall with another massive collection of new releases on the Nintendo eShop today.
Wulverblade is a side-scrolling beat 'em up about an early war between the Britons and the Roman army. Yono and the Celestial Elephants is an adventure game about a young elephant tasked with saving the world. And The Flame in The Flood: Complete Edition is a survival story about a young girl, her dog, and a raging river.
Over on the 3DS, RPG fans will be able to download Atlus's Etrian Odyssey V: Beyond the Myth on Tuesday, October 17.
You can learn more about all of this week's additions to the Nintendo eShop after the break.
---
Nintendo Download: An Adventure Game You'll Never Forget! [Press Release]

Nintendo eShop on Nintendo Switch

Yono and the Celestial Elephants – Many adventure games have a distinct lack of elephants … but that's all about to change because Yono is here. The Yono and the Celestial Elephants game is a grand adventure, featuring carefully designed puzzles, treasure hunts, a sprinkling of combat and a world full of people. Play as a young elephant tasked to save a world he's never seen before, and explore the rich history of a kingdom where humans, zombies, and robots live side by side.

Wulverblade – Help Britannia defeat the Romans in Wulverblade, a hardcore side-scrolling beat-'em-up game inspired by old arcade classics of the '80s and '90s. Go it alone or team up with a friend in local two-player co-op.* It's time to show the Ninth Legion what you're made of!

Neon Chrome – Neon Chrome is a ruthless top-down cyberpunk shooter with rogue-like elements. Experience a ruthless top-down cyberpunk shooter and blast your way through enemies and walls. Upgrade, enhance and build up your strength. The path to stopping the Overseer is ever changing.

Unbox: Newbie's Adventure – Unbox: Newbie's Adventure is a unique physics-platformer. Enjoy an epic single player adventure or grab up to four friends for local multiplayer races, battles and challenges! The Global Postal Service is nearing bankruptcy! To save themselves, they have created self-delivering boxes. Play as the GPS' latest cardboard creation, Newbie, as you attempt to save the day.

88 Heroes: 98 Heroes Edition – It's 8:08am on 8th August 1988, and the evil Dr. H8 has brought the world to the brink of total annihilation! His demands are simple: pay $88 octillion within 88 minutes, or Dr. H8's 88 thermo-nuclear warheads will wipe out the Earth! But who will save us in our time of need? The bravest? The boldest? No… the 88 Heroes (plus ten of their friends)!

The King of Fighters '95 – The King of Fighters '95 is a fighting game released by SNK in 1995. In addition to the character of popular work such as Fatal Fury and Art of Fighting in the sequel title of the previous work KOF '94, Yagamian will participate as the rival of the main character Kyo Kusanagi. With the team edit function installed, it became possible to form a team with the player's favorite character.

Don't Knock Twice – Don't Knock Twice is a first-person horror game based on a psychologically terrifying urban legend. To save her estranged daughter, a guilt-ridden mother must uncover the frightening truth behind the urban tale of a vengeful, demonic witch. Available Oct. 17

The Flame in The Flood: Complete Edition – The Flame in the Flood: Complete Edition is a wilderness survival game in which a girl and her dog travel on foot and by raft down a procedurally-generated river.

Squareboy vs Bullies: Arena Edition – Squareboy vs Bullies is an old school beat 'em up by Rohan Narang that follows the titular Squareboy and his quest for Justice!

Rogue Trooper Redux – A pioneering tactical shooter and landmark comic book adaptation, Rogue Trooper is back, remastered and revitalized in true high definition. Available Oct. 17

Putty Pals – Grab a friend and get squishy! Putty Pals is the ultimate co-op platformer, challenging two players to work together and overcome puzzles in a bright and beautiful world. Two adorable bouncing blobs are lost far from home, and only teamwork, communication and a whole lot of hilarious mistakes will guide them back. Sitting side-by-side on the couch, you and a friend will glide, bounce, squish and swing your way through a vibrant cartoon landscape, solving puzzles, avoiding danger and uncovering hidden secrets. Available Oct. 18

Nintendo eShop on Nintendo 3DS

Etrian Odyssey V: Beyond the Myth – The Etrian Odyssey V: Beyond the Myth game chronicles the quest of a new adventurer as he or she attempts to reach the crown of the towering Yggdrasil Tree. Personalize your party to work to your advantage! With endless character customization, adventurers will cast and create their own party from four unique races and 10 different classes to explore the uncharted labyrinth. Etrian Odyssey V: Beyond the Myth will be available on Oct. 17.

Little Adventure on the Prairie – A short and fun platforming adventure game. Venture through 12 levels of pure slaughter and mindlessly try to kill all the monsters that are facing you.

Nintendo eShop on Nintendo Wii U

Volgarr the Viking – Volgarr the Viking possesses all the hallmarks of the true classics – simple controls, high challenge, and meticulous design – combined with hand-made pixel animation, an epic soundtrack, and buckets of blood.

Legend of Hero Tonma – Fight your way through seven stages using Tonma's jump ability and shot power. Collect power-ups and barriers to grow in strength and pummel your enemies. Bring that strength to the end of each stage to face off against and defeat the menacing bosses that aim to keep you from the princess. This well-detailed game's comic visuals and feel will have players wanting to come back for more frantic and exciting action.

Digital Champ Battle Boxing – Set in the near future, Digital Champ is a first-person-perspective boxing title that plunges players into the raw intensity of the ring! Determined to thwart Mother Computer's plot to conquer mankind, you infiltrate the enemy's domain, using your boxing skills to vanquish your foes.

Motoroader – Motoroader is a futuristic racing game that allows up to five players to compete against each other! Use the cash earned when you win a race to power up your machine! Not only can you change the "TIRE" and "BODY" of your vehicle, but you can also add "SPECIAL" parts! Jump over tall obstacles with a "HOPPER" and blast past your rivals at incredible speeds with "NITRO"! What multiplayer game would be complete without attack items? Use a forward-launching "GRENADE" or a backward-dropping "BOMBER" to blow up and knock away your rivals!