In my home city of Glasgow, we are blessed with several small gaming havens where people can enjoy old arcade classics. Last year, I interviewed the guys behind our first-ever "arcade bar," Super Bario, and now I have the pleasure of talking to Androo Faulkner, owner of the gaming and instant raman noodle emporium known as R-Cade.
Andrew Rainnie, Warp Zoned UK Correspondent: Hi Androo, nice to meet you. In a nutshell, can you tell us what R-Cade is?
Androo Faulkner: R-Cade Glasgow is the first retro gaming arcade and instant ramen bar in Scotland. Our team consists of myself, my better half Mishelle, and our son Yoji. We specialise in game consoles from the past five decades like Atari, Nintendo, Sega, Xbox, and PlayStation. Our specially-designed arcade cabinets contain refurbished CRT televisions and original consoles to give our customers a 100% real [and] authentic gaming experience.
As well as providing the best computer games released between 1977 and 2007, we want to make instant noodles a new way of life. We will have all the greatest flavours from the biggest brand names in Asia. Cup Noodles from companies like Nissin, Nong Shim, Samyang, or Indomie. Plus with snacks like Pocky and Hello Panda, or drinks like Ramune Soda and Strawberry Fanta, nowhere will be quite the same as R-Cade.
WZ – Andrew: R-Cade mixes classic gaming with instant noodles! Out of all the catering or food choices, what made you go down this route?
Faulkner: Instant noodles are very rarely seen in Western Culture but [are] very prevalent in the East. With new chains like Tim Hortons or Taco Bell emerging from the US and Canada we felt that instant noodles from Nissin or Nong Shim were a simple, fast, tasty snack or lunch alternative that the people of Glasgow would adore. We also want to affect the Pot Noodle mindset and help others to discover the wealth of flavours that Asia has to offer too. Tonkotsu Pork, Spicy Seafood, etc. To begin with we have put together a basic menu with eight varieties, but this will expand over time.
WZ – Andrew: Explain the hashtag #SendNoods.
Faulkner: The #SendNoods campaign was borne of our desire to do something catchy with our brand. We originally thought of creating a mascot but a catchy hashtag is much easier to remember and establish. With the #SendNoods tag we [got] something memorable yet playful.
At the moment we are running an online giveaway via our social media channels in which each day in January one person that tags R-Cade in a post or tweet using the aforementioned hashtag will receive a voucher granting them one free ramen pot from R-Cade after we launch. Think of it like "Charlie and the Noodle Factory."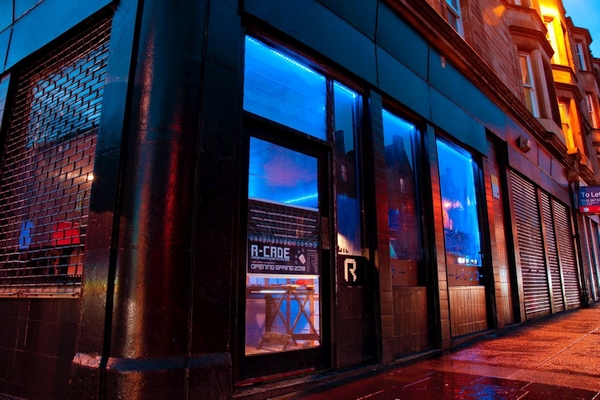 WZ – Andrew: What games and machines do you have on offer?
Faulkner: At the moment we have a collection consisting of the Atari 2600, NES, Master System, SNES, Mega Drive, PS1, Saturn, N64, Dreamcast, PS2, Gamecube, and Xbox (Original).
The Atari, NES, and Master System are permanent fixtures whilst the other consoles rotate through the four custom cabinets we have. Three of the cabinets I created are able to support two players with the biggest cabinet specifically-designed to support four players at once. We also have consoles from the last generation available (PS3, Wii, and Xbox 360) but these will mostly be used for specific tournaments or TV/film showings.
We began cataloguing our games library this week and are on the verge of passing 500 titles. This is across every console but our collecting never ceases. We have everything from common games like Sonic Adventure or Tekken 2, to more obscure Japanese-only titles like Battle Dodge Ball Tokyu Gekitotsu or Kinnikuman Nisei.
WZ – Andrew: Was the retro aspect driven by the popularity of retro consoles like the NES Classic and SNES Classic?
Faulkner: Our passion for retro gaming extends back farther than the Nintendo Classic range. Collecting older games consoles and games has been part of my life since as far back as I can remember. What Nintendo is doing is fantastic and the Classic NES/SNES are wonderfully polished products that we both own and love however in my personal opinion nothing can replace the originals when set up correctly.
WZ – Andrew: You have a giant working NES controller as well! Is this custom built, or did you find it on eBay?
Faulkner: The giant NES controller was a side project I worked on through 2017. As the business plan was evolving I had a number of ideas for other products that I wanted to create. It was originally intended as a secondary product to be sold alongside my arcade cabinets but has now become a showpiece that will feature in our retro arcade from time to time. When it was first built it connected via a Makey Makey to a laptop and could control any game via emulation. In its second iteration it now connects to a modded NES pad and can be used to play any NES game through an original console.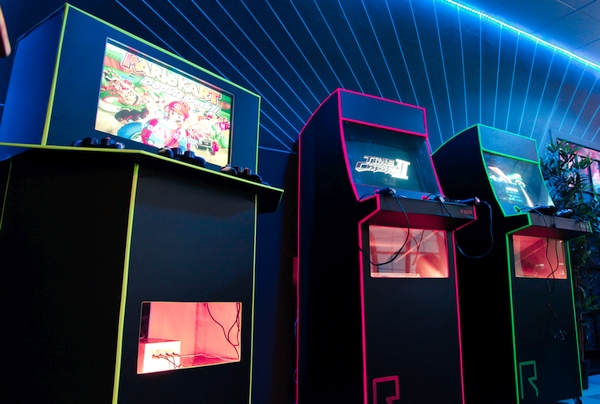 WZ – Andrew: As a city, Glasgow now has quite a few gaming related restaurants and bars, like Super Bario, MegaBytes, and Geek Retreat. What made the city so attractive to your venue? And how do you think R-Cade will do things differently from the competition?
Faulkner: Glasgow is our family's home. We know and love this city with all of our hearts. I couldn't imagine opening a business in a better place as Glaswegians are renowned for their friendliness and their famous patter. Our idea to open an arcade in Glasgow has been tossed around for the past seven years, in one format or another. My partner Mishelle was actually the first manager at Geek Retreat and was responsible for setting up their Union Street shop. The staff at MegaBytes are good friends of ours and have been incredibly supportive of our journey from the start. And as I've mentioned previously we have followed Super Bario from the beginning and adore what they have created.
In R-Cade we believe that there isn't any "better" way of doing things. Each person has a different taste or opinion and all we can hope for is that what we provide is fun and exciting. We want to work with our fellow geeks, they are not the competition. For example, a few days ago, a small family knocked on our door looking to play some games having travelled all the way from Erskine. Of course we aren't open yet and so I directed them along the road to MegaBytes. It's about embracing the community and working together and we hope to make as many friends along the way as we can.
WZ – Andrew: Originally, you launched a Kickstarter campaign to fund the creation of R-Cade, but cancelled it later on. Talk us through why you opted for crowdfunding, and then how you managed to complete R-Cade when the campaign did not take off.
Faulkner: We first began crafting our Kickstarter campaign in 2016. Initially, the idea behind R-Cade was to build custom cabinets containing retro consoles [and sell them] to the general public through an online channel. Our first Kickstarter draft reflected this, but as the business model evolved, so did the funding needed to make it happen. Once I had established the new business plan for an arcade venue/instant noodle bar I sought to secure funding from other sources. The Kickstarter campaign I had initially created lay dormant whilst I took out a sizeable personal loan to be able to make the project happen.
After we found our premises with Glasgow City Council we began speaking to other businesses in the area that had taken [the] crowdfunding route. The gents at Super Bario were most helpful in conveying that a Kickstarter was best used as a source of advertising as opposed to a source of income. We quickly realigned our own Kickstarter with the new business plan and released it into the wild. Fortunately, using the foresight of others and some common sense, the Kickstarter was not necessary as I had already prepared for all eventualities with other funding.
WZ – Andrew: You set a very modest target of £5000, but it reached only 10% of this. If you could do anything differently with the crowdfunding campaign, what would it be?
Faulkner: The only thing I believe we needed was to build better awareness before releasing the campaign to the public. Our online following was still in its infancy when we announced our Kickstarter and I feel this led to its downfall. With only two weeks left to go and with a huge build project/massive launch to complete we didn't feel like we could push the campaign as hard as we wanted to, especially being only a two-person team.
WZ – Andrew: Although your Kickstarter campaign was cancelled, you helped out the creators of a comic known as Killtopia with their campaign. How did that come about?
Faulkner: Dave and Craig from Killtopia approached us about four months ago. They asked if they would be able to film their Kickstarter Promo Video in our venue. We hadn't even painted the walls yet! But we have stayed in contact and we've all be helping each other out with online promo work here and there. Both Mishelle and I are artists ourselves, with a deep love of Japanese culture, so Killtopia resonated with us immediately. Dave's writing and Craig's artwork are both incredible and we couldn't pass up the chance to work with them. Their Kickstarter for Issue #1 launches February 2nd.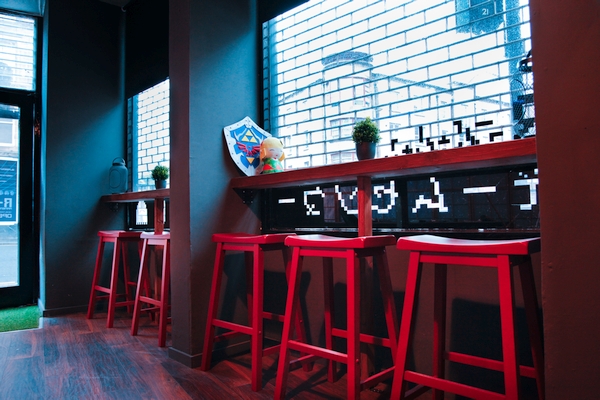 WZ – Andrew: How easy or hard was it to get the space and licenses to set up R-Cade?
Faulkner: I think we were very lucky. I spent the best part of six months hunting for a workshop to be able to build arcade machines and in the process stumbled across the shop we now rent on Saltmarket. For a lot of businesses it can be tough, but being in the right place at the right time is what it is all about. It's total dumb luck really.
In regards to licensing, that is a matter of hard work. Research is everything. You can leave no stone unturned when establishing a new business. My 15 years of retail experience has taught me a lot and without that experience I definitely would not have been able to start this new journey. My best advice for any budding entrepreneurs is to speak to your local council and your local Business Gateway, they are invaluable resources when it comes to creating a solid business plan.
WZ – Andrew: Could you see this as the start of a franchise? If so, where would the next R-Cade spring up?
Faulkner: One day perhaps, a second or third R-Cade in a different city would not be out of the question. For me personally, I would target Edinburgh. I grew up in West Lothian and so I know Edinburgh very well. It would be the logical choice as far as I am concerned.
WZ – Andrew: In an age when online multiplayer video games and mobile phones are causing society to become more isolated, how important is it to have a social gaming space like R-Cade?
Faulkner: Local multiplayer is an experience that this generation has little or no concept of. [Whenever] possible I try to invite my son's friends over for a proper gaming session as opposed to meeting up online. There is a kinetic energy in competitive gameplay that networking over great distances cannot recreate. My fondest memories as a child are playing split screen with my friends and it saddens me to think that children today will miss out on that. My hope is that R-Cade will boost this and give players a chance to reconnect in ways that they cannot online.
WZ – Andrew: To keep up to date with R-Cade, you can follow them on Facebook and Twitter, or visit their official website at RCadeGlasgow.com.