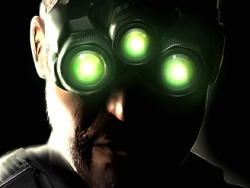 Sam Fisher is so stealthy, that even his new game announcements happen completely under the radar!
Julian Gerighty, the Creative Director on Tom Clancy's The Division 2, revealed yesterday that he was in France working on the next entry in the Splinter Cell franchise with the team at Ubisoft Ivory Tower. He also implied that the currently unannounced Tom Clancy's Splinter Cell 7 would make an appearance at this year's E3 Expo in June That's a lot of "Whoops!" for one tweet:
Working on the next #SplinterCell with @danhaynow and @romcamor in #Lyon.
Can't wait for #E3.
Crossover with #TheCrew2 with @_fergus_ :)
Only missing @GhostRecon and @Rainbow6Game – but on their way.#FarCry#ForHonor #TheDivision2 #RainbowSixSiege #GhostRecon pic.twitter.com/oiwMPTny9Y

— Julian Gerighty (@jgerighty) May 14, 2019
Ubisoft Ivory Tower is best known as the developer behind The Crew and The Crew 2, so Sam Fisher might want to brush up on his driving skills before his next mission. This year's E3 Expo is happening in just a few weeks, so hopefully Gerighty is telling the truth and we'll learn more about it then.
---
UPDATE: Ubisoft told Game Informer that Gerighty was "joking" and that they don't have any Splinter Cell announcements to make at this time: "Julian was obviously joking as Julian likes to do. It looks like our creative directors are having fun right now. We do not have any announcements to make at this time."
It's possible that Gerighty was making a joke, but if he was, what's the punchline? We won't know for sure until next month, but I would not be surprised to see Sam Fisher stalking the halls of the E3 Expo this year.