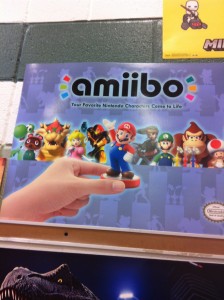 My wife is currently volunteering at my son's school book fair. While setting up, she snapped a picture of one of the Nintendo posters available for sale.
Notice anything different? Animal Crossing's Tom Nook and Pikmin's, well, Pikmin, are front-and-center on this Amiibo poster. That's quite odd, as Nintendo hasn't made any official announcements regarding any additional Amiibo releases outside of the Super Smash Bros. and Mario Party 10 lines. Does this mean these two characters are still in the cards as future Amiibos? And does this mean they'll be announced soon?
Now, don't go thinking that this poster acts as of these figures. Actually, the art is the same as this GameStop poster (via Reddit) first seen back in December. But with the final design of the new Mario Party 10 Mario figure added to the mix, one can't help but wonder why these other characters haven't been taken out of the image. As with any Nintendo-related rumors, take this one with the ol' grain of salt until you hear it straight from the Big N, but I like my chances of picking up Tom Nook and Pikmin Amiibo figures someday.