Most Recent:
News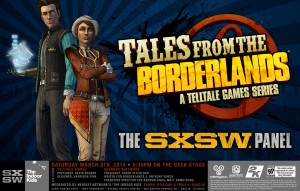 Marge: You liked Rashomon.
Homer: That's not how I remember it.
Developers from Telltale Games and Gearbox Software took the stage at the SXSW Festival today to talk about their upcoming collaboration, Tales From the Borderlands. During the talk, the developers revealed that the game will feature a two-sided narrative that will be told in flashback by the two main characters. Fiona, the Carmen Sandiego-like woman in red, is a con artist and Rhys, the cybernetically-enhanced dude with her, will be broody and cybernetically enhanced. Together, they'll weave a story about their time on Pandora that won't quite match up with the other's retelling or with reality. The storytelling conceit, which was borrowed from Akira Kurosawa's Rashomon, has been used many times over the years including the Simpsons quote above and my favorite episode of The X-Files ever (season four's "Bad Blood").
Tales From the Borderlands is said to be funnier than Telltale's more recent output (it definitely won't be like the typically dour The Walking Dead and The Wolf Among Us) and will feature the franchise's signature brand of humor. There will also be some shooting sections to the game, but according to Telltale's Harrison Pink, they'll be controlled "in a Telltale kind of way."
Even with all this new information, the developers did not reeval any gameplay video and we still don't know when Tales From the Borderlands will be released or what platforms it'll appear on.
[Source: Polygon]