Most Recent:
News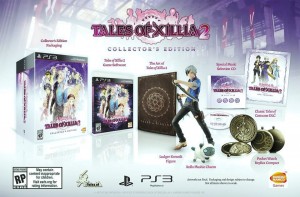 Tales of Xillia 2 was released in Japan more than 18 months ago. Now, Bandai Namco is finally ready to announce a western release date for the game. The latest entry in the long-running Tales series will be released in North America exclusively for the PS3 on August 19. European gamers will have to wait an extra three days, until August 22, for the game to reach their shores.
The publisher also announced that a special Collector's Edition of Tales of Xillia 2 will be available in August. The Collector's Edition, which has been priced at $129.99, will come packaged with a ton of goodies:
Collector's Edition Packaging
Ludger Kresnik Figure
The Art of Tales of Xillia 2
Special Music Selection CD
Elle's Pocket Watch (Non-Functioning Replica)
Rollo Plushie Charm
Classic "Tales of" Costume DLC (Yuri Lowell, Emil Castagnier, and Asbel Lhant)
Maybe it's asking too much, but for $130, I'm a little surprised the watch doesn't even work.