Most Recent:
Movies/TV/Video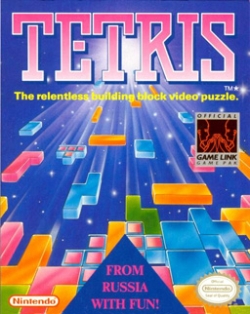 And that somebody is Larry Kasanoff, the same producer behind 1995's Mortal Kombat and 1997's less-impressive Mortal Kombat: Annihilation. Kasanoff told The Wall Street Journal that his production studio, Threshold Entertainment, has signed a deal with The Tetris Company to produce the film as a theatrical release.
There's no word yet on who will star in the film or when it'll open in theaters, but Kasanoff believes that Tetris: The Movie should take the form of a massive sci-fi blockbuster:
"It's a very big, epic sci-fi movie," Threshold's CEO Larry Kasanoff tells Speakeasy [a WSJ blog] exclusively. "This isn't a movie with a bunch of lines running around the page. We're not giving feet to the geometric shapes."
Kasanoff's sci-fi take on the game's story isn't the first time Tetris has looked to the stars for inspiration. The "plot" of 2002's Tetris Worlds involved rescuing a race of intelligent machines from a dying planet through the power of "Tetrion Gates." Each gate was unlocked once the player lined up a series of Minos (Tetris pieces) along the bottom of the well.
Personally, I hope it's like the Captain N episode, "The Trouble With Tetris."