Most Recent:
Movies/TV/Video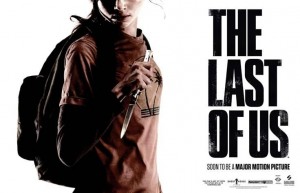 Back in March, we learned that Sony Pictures would be producing a Last of Us movie adaptation through their Screen Gems subsidiary. During this weekend's San Diego Comic-Con, the studio revealed a bit more about their plans for the film, including this awesome teaser poster.
Sam Raimi, who will be producing the film, spoke to the gathered crowd alongside Naughty Dog Creative Director Neil Druckmann. Druckmann is also writing the screenplay, which Raimi believes will be "very true" to the game. The pair revealed that they're currently in the process of whittling down a 15-hour game into a feature-length movie. And one of the things that may be changed is the ending.
The producers haven't signed anyone to the cast yet, however they did say they've talked to Maisie Williams (Ayra Stark from Game of Thrones) about playing Ellie. The crowd roared its approval and even started up a "Bruce Campbell For Joel" campaign, but Raimi said that was unlikely. However, everyone's favorite Evil Dead star will have "a place" in the film.
Finally, Raimi announced that the movie is still "years away" and that he won't be directing. Instead, Druckmann is the person who is in charge of choosing the director. I wonder if Fede Alvarez (the director of the 2013 Evil Dead reboor/sequel) is available?
[Source: ComingSoon.net]