Most Recent:
Music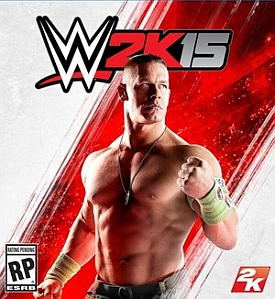 2K Games struck gold when they decided to hand the last three NBA 2K soundtracks over to curators such as Jay-Z (NBA 2K13), Lebron James (NBA 2K14), and Pharrell Williams (NBA 2K15). Yesterday, the publisher announced they're going to try again by giving the musical reins of WWE 2K15 to John Cena, one of the most popular "WWE Superstars" working today.
Cena took his duties very seriously and didn't just pick a handful of songs to appear on the soundtrack. He teamed up with Wiz Khalifa to perform on two of the songs ("All Day" and "Breaks"), which will also be featured on a companion soundtrack album. Set for release as a digital download on October 21, the soundtrack album will include the following tracks:
Wiz Khalifa & John Cena – "All Day"
B.o.B (Featuring Future) – "Ready"
Rudimental (Featuring Emeli Sandé & Nas) – "Free"
Wiz Khalifa – "We Dem Boyz"
Flo Rida (Featuring Sia) – "Wild Ones" [WrestleMania 28 Version]
Knife Party – "Bonfire"
Big Smo (Featuring Alexander King) – "Workin'"
Mystery Skulls – "Ghost"
Royal Blood – "Come On Over"
Wiz Khalifa & John Cena – "Breaks"
Four additional songs can be heard in the game including Avenged Sevenfold's "This Means War," Dizzee Rascal's "Heart Of A Warrior" (featuring Teddy Sky), Florida Georgia Line's "This Is How We Roll" (featuring Luke Bryan), and Rise Against's "Zero Visibility."
WWE 2K15 will be available for the PS3 and Xbox 360 on October 28 and on the PS4 and Xbox One on November 18.