Most Recent:
PS3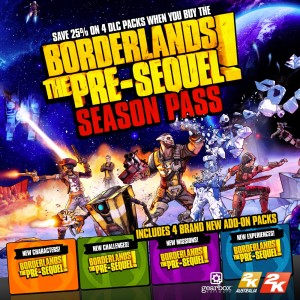 Hey! Guess what! 2K Games, Gearbox, and 2K Australia will follow the release of Borderlands: The Pre-Sequel with four add-on content packs. And… and… you'll be able to pre-purchase a Season Pass to get a 25% discount on all four DLC packs.
Announced over the week at the PAX Prime convention, the four content packs will add "new characters, challenges, missions, and experiences" to the Pre-Sequel. Obviously, the make-up of each pack has yet to be formalized, but we do know that they'll be priced at $9.99 apiece while the Season Pass has been set at $29.99.
Borderlands: The Pre-Sequel (and the Borderlands: The Pre-Sequel Season Pass) will be available for the PC, PS3, and Xbox 360 on October 14.