Most Recent:
Retro

Fans have been asking to send the Call of Duty franchise back to the European Theater for years, and now that Activision has finally delivered, those same fans have gleefully opened their wallets. According to The NPD Group, Call of Duty: WWII was the best-selling game in November, as well as the best-selling game in all of 2017 (so far).
Call of Duty: WWII's launch helped push November 2017's total game, hardware, and accessory sales to $2.7 billion, an increase of 30% over last year. Other big performers that fuled the last four weeks of sales included Star Wars: Battlefront II (#2), Assassin's Creed Origins (#3), Super Mario Odyssey (#6), and a big debut for Need For Speed: Payback (#8).
The complete Top 20 from last month can be found after the break. (more…)
Posted in

3DS, News, PC, PS3, PS4, Switch, Wii, Wii U, Xbox 360, Xbox One
Tagged

Assassin's Creed Origins, Call of Duty: WWII, Destiny 2, FIFA 18, Grand Theft Auto V, Just Dance 2018, Madden NFL 18, Mario Kart 8, Middle-Earth: Shadow of War, NBA 2K18, Need For Speed Payback, NPD, Pokemon Sun/Moon, South Park: The Fractured But Whole, Star Wars: Battlefront II, Super Mario Odyssey, The Legend of Zelda: Breath of the Wild, The Sims 4, Wolfenstein II: The New Colossus, WWE 2K18
The Champions Ballad, the second expansion from The Legend of Zelda: Breath of the Wild's Expansion Pass, is now available to download from the Nintendo eShop on the Switch and Wii U. Nintendo surprise-launched the DLC during last night's Game Awards, while also introducing Link's motorcycle in a new trailer:
In this second of two DLC packs that are part of the game's Expansion Pass, players are granted access to a large new adventure featuring a never-before-seen dungeon, new insights into the background of the game's four Champions, as well as a new high-mobility means of transportation. Once players complete the adventure, they will have the opportunity to traverse the enormous world of Hyrule on top of a motorcycle called Master Cycle Zero. The DLC will also grant access to nine new armor items for players to find, as well as the Ancient Saddle and Bridle items.
The Expansion Pass, which includes The Champion Ballad, as well as The Trial of the Sword, is now available to purchase for $19.99.

This week's Nintendo eShop is here, and once again, a huge number of new games are now available to download for the Nintendo Switch.
Leading things off is 2K's WWE 2K18. The wrestling sim makes its first appearance on a Nintendo console in several years, and fans will be able to compete in eight-man matches with "a new grapple carry system, new weight detection, thousands of new animations, and a massive backstage area."
Also available to download today is The End Is Nigh, an "adventure platformer" from Edmund McMillen, and a spiritual successor to Super Meat Boy. Also this week, get down and get funky with Floor Kids, "a unique breakdance game featuring dance battles, freestyle gameplay, and funky beats."
Switch owners will also find nearly 20 more new titles on the Nintendo eShop, including scrolling shooters (Dimension Drive and Gunbird), racing games (Riptide GP: Renegade), platformers (Slain: Back From Hell and Embers of Mirrim), mystery games (The Sexy Brutale), and more.
You can learn more about all of this week's additions to the Nintendo eShop (including a few 3DS and Wii U games) after the break. (more…)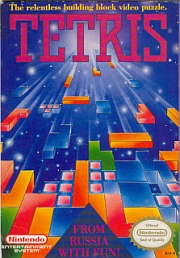 Polygon recently celebrated its fifth birthday with a weeklong countdown of their choices for the "500 Best Games of All Time."
Along with a high-profile roster of special guests (including Jeremy Parish, Susan Arendt, Jon-Paul Dyson, and Benj Edwards), the site's staff put together this massive ranking of games that includes titles from nearly every platform and stretching back to the very beginning of the medium. They even set some ground rules:
We asked everyone to vote based on innovation, polish and durability, rather than simply personal taste. We cut games released in 2017 to eliminate recency bias. And we left out sequels that we deemed too similar to the games that came before them.

Collecting all those votes together, we then combed through the data for anomalies and came up with the final order you see here.
Polygon's final tally looks very similar to our own "Scientifically Proven Best Video Games of All Time," and this includes their selection of Tetris as the #1 game of all time.

There's one more big game coming to the Switch this year… and Nintendo's Xenoblade Chronicles 2 will be available to download beginning tomorrow. The epic RPG closes out a huge first year for Nintendo's newest console, and fans of the franchise can't wait to explore the strange land of Alrest.
Other Switch games available to download this week include Serial Cleaner, a 70s-set crime scene cleanup simulator; Syberia 2, a Switch re-release of the classic adventure game; and Nine Parchments, a spellcasting action game from Frozenbyte.
You can learn more about all of this week's additions to the Nintendo eShop (including a few Wii U games) after the break. (more…)

November 29 is a momentous day in video game history.
It was on this day in 1972 that the founders of Atari (Nolan Bushnell, Ted Dabney, and Al Alcorn) delivered and installed the very first Pong arcade cabinets. To celebrate the 45th anniversary of this world-changing event, the company currently known as Atari has declared today to be "Pong Day."
The Atari of 2017 is very different from the Atari of 1972, but both companies are still obsessed with Pong. Today's Atari has even partnered with a group of engineers and artists to create Table Pong, a coffee table that also doubles as a real-life recreation of the classic arcade game:
Table Pong [is] an oversized Pong game embedded in a stylish coffee table, perfect for the home or arcade. Amazingly, it has no screens or digital software; instead, the game is recreated in three dimensions with motors, rails, pulleys and magnets to perfectly simulate the game's familiar 2D movements.

Developed as a tribute to Generation X and its most iconic video game, Table Pong lets players experience the Atari Pong game on a whole new dimension that fuses the high-tech mechanical engineering of today with the beloved '80s game. The table easily transforms from a true-to-life mechanical game of Pong to a stylish living room accessory that features four USB charging ports, as well as a Bluetooth speaker so you can enjoy your favorite music while you play.
Table Pong will be available sometime in Early 2018, and you can learn more about the project at TablePongProject.com.
If you'd like to further explore the history of Pong, our Scientifically Proven Best Video Games of All Time series includes an essay about the game's creation, and you can also point your browser at Atari.com to play a few rounds in your browser.
The Pokemon franchise began in 1996 with the (Japanese) launch of Pokemon Red and Green. Since then, The Pokemon Company has added 74 more games to the franchise, including Pokemon UltraSun and UltraMoon, which launched for the 3DS on November 17. And according to the developer, the initial sales of those two games have pushed the Pokemon franchise's lifetime sales tally above 300 million copies sold.
To celebrate, they've released a brand new "Accolades Trailer" for Pokemon UltraSun and UltraMoon, which is embedded above.
This milestone places the Pokemon franchise among some very exclusive company, as Nintendo's Super Mario franchise is the only other game franchise to surpass 300 million in total sales. However, Rockstar's Grand Theft Auto and Activision's Call of Duty will likely join the "300 Million Club" soon, as both franchises are currently sitting at around 250 million copies sold.

Nintendo rests for no holiday! Because it's Thursday, the consolemaker just dropped a massive update on the Nintendo eShop.
This week, iOS and Android users will be able to download Animal Crossing: Pocket Camp, Nintendo's "free-to-start" entry in the whimsical life simulation series.
But Nintendo fans should be extra thankful for Capcom this week. Apollo Justice: Ace Attorney, which was originally released for the DS in 2008, will receive a 3DS re-release. And Resident Evil Revelations and Resident Evil Revelations 2 will make their Switch debut this Tuesday, November 28.
You can learn more about all of this week's additions to the Nintendo eShop (including a few Wii U games) after the break. (more…)