All Articles:
2014 FIFA World Cup Brazil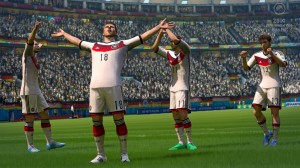 Yesterday, EA declared that the 2014 World Cup would be won by Germany. EA simulated the Cup, testing all 32 teams using the conditions for the upcoming weeks, using the football/soccer engine from their 2014 FIFA World Cup Brazil game. The final outcome was that Germany would win over Brazil with a score of 2-1. This would mean that Germany would be the first nation from Europe to win the Cup in South America.
The sports simulation giant predicted correctly that Spain would win four years ago, but if that doesn't give you enough faith in them, you can make your own predictions at EA's interactive bracket.
2014 FIFA World Cup Brazil is available now on PlayStation 3 and Xbox 360. Check out the full press release (which includes predictions for every match after the Group stage) for the simulation after the jump. (more…)