All Articles:
Ace Combat: Assault Horizon
February 13 is going to be a big day for Nintendo and their 3DS handheld. On that day, which is also Friday the 13th, Nintendo will release their New 3DS XL handheld in America along with several hotly-anticipated 3DS games.
The New 3DS XL includes a bevy of new features such as expanded control options (a C-Stick and ZL/ZR buttons), enhanced 3D viewing thanks to face-tracking technology, and built-in NFC functionality for Amiibo figures. Four different versions of the handheld will be released including the system-only New Red and New Black packages (priced at $199.99 each). A New 3DS XL featuring artwork based on The Legend of Zelda: Majora's Mask 3D will also be available for $199.99. Finally, a bundle pack that includes the handheld and a copy of Monster Hunter 4 Ultimate will be released for $229.99.
As you might have guessed from the bundle options, The Legend of Zelda: Majora's Mask 3D and Monster Hunter 4 Ultimate will also be released on February 13. They'll be joined on store shelves on February 13 by a third new 3DS game… Ace Combat: Assault Horizon Legacy+, the latest game in the dogfighting simulation series.
Nintendo wants to be sure that no one feels unlucky on this Friday the 13th.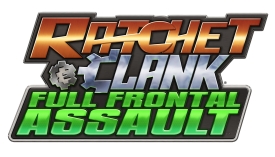 We've got a slightly subdued PlayStation Store update this week as only seven games were added to the service.
Leading things off is the latest Ratchet & Clank game, Ratchet & Clank: Full Frontal Assault. You know, I think using a double entendre as the title of a platformer that is basically for kids will never get old.
Also available this week is a trio Sega-published fighting games from the 1990s. All three games were developed by the company's AM2 internal studio and they all should conjure up some good memories: Fighting Vipers, Sonic the Fighters, and Virtua Fighter 2.
Rounding out this week's new releases is Men In Black: Alien Crisis (just in time for Men In Black 3's Blu-ray/DVD debut), Ace Combat: Assault Horizon, and the PSP game Phineas and Ferb Across the 2nd Dimension.
More information on all of these games can be found after the break. And a complete list of this week's new game add-ons can be found at the PlayStation Blog. (more…)
The trailer for the latest in the Ace Combat series, Ace Combat: Assault Horizon, has some powerful moments. In this "Full-Blown Assault," we get to see some intense gameplay, including a massive battle going on just outside of Washington, DC. The music is pretty catchy, too – "Gotta stay fly, gotta stay strong." I see what they did there.
Namco's Ace Combat: Assault Horizon will be out on October 11 for PS3 and Xbox 360.