All Articles:
Alien Fear

It's another big week for the PlayStation Store as Lego Marvel Super Heroes, Deus Ex: Human Revolution Director's Cut, Rocksmith 2014, and SpongeBob SquarePants: Plankton's Robotic Revenge all make their digital debut simultaneously with their retail release.
If superheroes, augmented humans, musical lessons, or underwater mutants aren't your thing, this week's update also includes Ninja Theory's unsung Enslaved: Odyssey to the West; Ubisoft's stab at strategy, R.U.S.E.; a PSN version of Beer Pong!; puzzle platformer Ethan: Meteor Hunter; first person shooter Alien Rage; and the Cthulhu versus technology shenanigans of Magrunner: Dark Pulse.
Oh, and Lego Marvel Super Heroes is also available for the Vita.
More information on all of these games can be found after the break and a full rundown of this week's new game add-ons (including Borderlands 2: T.K. Baha's Bloody Harvest and Saints Row IV: Enter the Dominatrix) can be found at the PlayStation Blog. (more…)

Microsoft is pushing out another Friday update to the Xbox Live Arcade as CI Games' Alien Rage is now available to download:
Alien Rage is an action-packed, hard-core first-person shooter that will have you facing off against armies of the nastiest Alien forces ever encountered. Battle beastly-sized bosses relentlessly attacking you from every direction, hell-bent on taking you down. Tons of powerful dual-mode weapons, 14 intense levels, massive shootouts, destructible environments and over-the-top fast paced gameplay.
The first person shooter is priced at $14.99 and was originally released for Steam last month. A PS3 version of the game will be added to the PlayStation Store next week.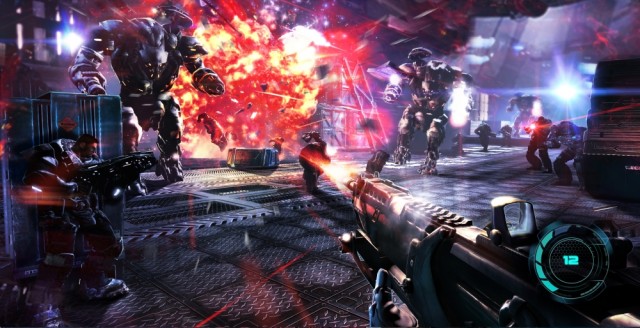 City Interactive has released the first screenshots of their upcoming Unreal Engine 3 powered first-person shooter, Alien Fear, which is coming this Fall to the Xbox Live Arcade and PlayStation Network. Hoping to set a new standard for digital download games, the game puts you in the shoes of a space commando on a vital mission to sabotage the enemy forces. The screenshots are very impressive, using a larger colour palette than most of the grim shooters these days, and looks to offer a visual delight of arcade action mayhem.
You can find all eight screenshots after the break. (more…)