All Articles:
Arcadecraft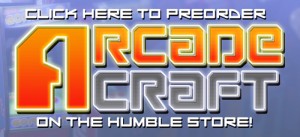 Arcadecraft, the arcade simulator in which you can create and run your very own arcade, is finally coming to PC. The game has had some success on Xbox Live Indie Games, selling 65,000 copies, and now developer Firebase Industries is ready to take the PC crowd by storm.
According to Firebase's announcement, these new features will be available in the PC version:
Mouse Control Support
Keyboard Control Support
Xbox 360 Gamepad Support
16:9 Resolutions from 1280×720 to 1920×1080
Higher resolution textures and UI art
New Character Models with Redone Animations
Selectable Characters
All of the Xbox 360 content updates released so far are included
More than 100 arcade machines to place
Sim from 1980 to 1987
There's no release date yet, but you can click on the image above to pre-order it on the Humble Store. If you don't know what Arcadecraft is about, hit the jump to see the reveal trailer for the Xbox 360 version. (more…)
Of course, all arcades are old-timey arcades nowadays, however, that hasn't stopped Firebase Industries from announcing Arcadecraft. The arcade management sim is currently in development for release on the PC and Xbox Live Arcade and it looks amazing.
Arcadecraft will allow players to purchase, position, and redecorate over 100 cabinets based on the 1980-1990 era of arcade games. These cabinets include a few titles clearly based on the classics including Crawlers (Centipede), Space Rocks (Asteroids), Alien Landing (Space Invaders), Gorilla (Donkey Kong), Son of Gorilla (Donkey Kong Jr.), Cybroids 1999 (Robotron 2080) and more.
Be sure to check out the trailer above and the screenshots at Firebase's official website. As I said, they look amazing. And if you're going to be attending this weekend's PAX Prime expo, the guys from Firebase will be roaming the show floor as well. If you ask real nice, maybe they'll let you have a private demo with the game.