All Articles:
Army of Darkness: Defense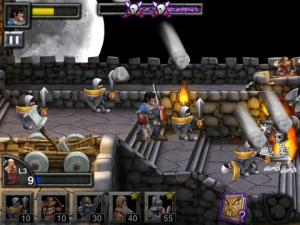 Alright you primitive screwheads, listen up! You see this? This is a news article informing you that Backflip Studios has recently added Army of Darkness: Defense to the iTunes App Store in both iPod Touch ($0.99) and iPad ($2.99) versions.
Army of Darkness: Defense is a tower defense game that recreates the climactic scene from the film where swarms of Deadites raid the castle in search of the Necronomicon. Bruce Campbell returns as Ash to give the "world's biggest idiot" a dose of "Groovy!" as he's joined by swordsmen, armored knights, archers and more.
The movie really seems to be tailor-made for the tower defense treatment as Arthur, Henry the Red, Sheila, the Wiseman and Evil Ash will all join the fight. Thankfully, Ash's trademark weaponry can also be unlocked including his Boomstick, the chainsaw, magic spells and the Deathcoaster.
With all that firepower, maybe Ash's boys can protect the book. Yeah, and maybe I'm a Chinese jet pilot.