All Articles:
Battle: Los Angeles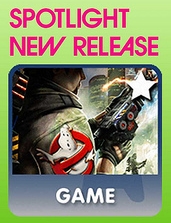 Welcome to one of the biggest PlayStation Store updates ever!
It's possible you're too busy playing the newly released SOCOM 4: U.S. Navy Seals beta to notice, but Sony added seven games to the store yesterday and another two to the PSP store. But first things first, the Spring Fever 2011 sale continues this week with discounts on Tetris (now $4.99, regular price $9.99) and Grand Theft Auto: Liberty City Stories (now $9.99, regular price $19.99).
As for the new releases, check 'em out:
Ghostbusters: Sanctum Of Slime – A top-down twin-stick shooter starring the Ghostbusters and this week's "spotlight update" to boot.
Swarm – An action platformer from HotHead Games.
Battle: Los Angeles – A first person shooter based on the hugely popular new movie.
Premier Manager – A front office simulation of Europe's numbe one soccer league.
DC Universe Online – The superhero MMO is now downloadable.
PlayStation Move Heroes – Everyone's favorite Sony mascots (except for Kratos) go head-to-head-to-head in this Move-powered crossover.
Legend of Mana – It's not as cool as Secret of Mana, but it's definitely a PSone Classic.
As I said, the PSP store also received two updates: Hoard, a dragon-powered "action strategy" title; and the increasingly illnamed Dissidia 012 [duodecim]: Final Fantasy.
Hit the jump for more details on all of this week's releases or visit the PlayStation.Blog for a full rundown of all the new game add-ons. (more…)

While Aaron Eckhart and the rest of the Battle: Los Angeles cast were pushing the movie to a blockbuster debut at the box office this weekend, Konami was quietly adding the film's Xbox 360 adaptation to the Xbox Live Arcade.
Available to download for 800 Microsoft Points ($10), Battle: Los Angeles was developed by Saber Interactive as a first person shooter companion to the film. Players are placed in the boots of Corporal Lee Imlay as he fights the interstellar invasion alongside characters from the movie. Xbox 360 owners with a 3D TV will be able to splatter the aliens in style with a special stereoscopic 3D mode.
Battle: Los Angeles will be available to download through the PlayStation Network on March 22. It'll also be added to Steam sometime later this month.
Few movies get turned into games nowadays, but Konami has decided to buck that trend and bring a game based on Battle: Los Angeles to the PC, PlayStation Network and Xbox Live Arcade this month. Developed by Saber Interactive, the game will be a first person shooter where players will "fight alongside characters from the film and defend the city of Los Angeles from attacks from unknown forces."
While the game may be scaled down to fit inside a downloadable package, the action looks and sounds like anything but (just check out the trailer above):
Battle: Los Angeles is a high-end fast and frantic first-person shooter game that will take players through a single player campaign that mirrors the upcoming feature film. Players will assume the role of a Marine fighting against a worldwide alien invasion that has the city of Los Angeles as the major battleground and focal point for the game. Players will battle unique and varied enemies, using an arsenal of weapons throughout the game like an assault rifle, sniper rifle, rocket launcher, frag grenades, and a turret gun as they navigate the streets of Los Angeles avoiding fierce and relentless attacks. Aside from high-caliber fire fighting combat, destructible environments have been included using the Havok Destruction Module, which will allow players to destroy scaffolding structures, vehicles and overpasses to eliminate enemy forces. With unlockable content, trophy support, and 5.1 surround sound, Battle: Los Angeles will pull players deep into the heart of the battle to save mankind.
Battle: Los Angeles opens in theaters on March 11.