All Articles:
BattleBlock Theater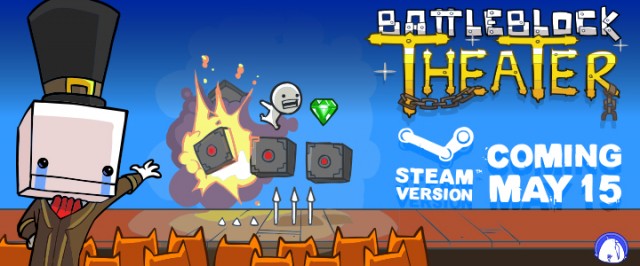 That's right – the Behemoth's BattleBlock Theater is finally coming to a platform I can play it on! It will be releasing for Steam on May 15th, with a price tag of $14.99. They've even made some improvements (it's unknown if these improvements will come to the XBLA edition):
Cats are fatter, weapons can be immediately switched, Steam Trading, Steam Trading Cards, alterations of the "better" variety exist for sure.
Cats are fatter??? Sign me UP. What's even better is that anyone who beta tested the Steam version gets the game for free! That's right: the Behemoth is bequeathing you a copy of the game for being so helpful. How awesome is that?
So mark your calendar now – you can get BattleBlock Theater on May 15th for $14.99 for Linux and Windows PC. Rejoice!