All Articles:
Battleship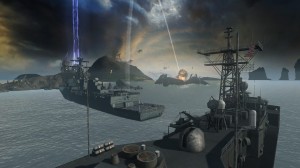 Battleship is about to go from a board game to both a high-intensity, over the top movie, as well as a video game. Activision and Hasbro announced that the PS3 and Xbox 360 game will be developed by Double Helix Games. Magic Pockets is also working on "uniquely designed versions" for the 3DS, DS, and Wii.
Battleship will "follow elite demolitions specialist Cole Mathis as he clashes against an aquatic-based extraterrestrial peril in the sand and sea of the beautiful Hawaiian archipelago," according to the press release. The game will combine first person shooter gameplay with naval strategy.
Mark Blecher, Senior Vice President and General Manager of Digital Media and Marketing at Hasbro, said, "With a Battleship videogame, we have an amazing opportunity to take our beloved property and give it a modern-day spin. The merging of tactical and action elements immerses players in an epic maritime conflict. Activision is completely up to the task of delivering a high-intensity thrill ride that's perfectly suited for today's console owners."
Battleship the game will arrive alongside Battleship the movie (which will no doubt be accompanied by "Battleship the board game, now with aliens!") this May.