All Articles:
Battlestar Galactica Online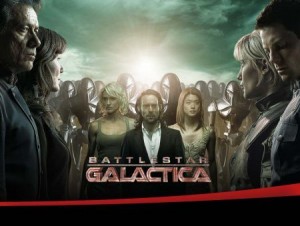 Bigpoint, the self-proclaimed "global market leader in browser-based massively multiplayer online games" (what?) has launched the open beta of the free-to-play, browser-based, space combat euphoria that is Battlestar Galactica Online. The Massively Multiplayer Online Space Combat Game (MMOSCG trademark Mike Gutierrez) tells an untold chapter in the latter half of the second season of the SyFy series as Colonial and Cylon forces are "stranded in an uncharted area of space."
Players choose a side, go through training for the flight controls, then can begin getting into the meat of the game: exploring space, taking on missions, gaining experience, accessing the market, and customizing your avatar and ship. The game also provides some authenticity for fans as the game incorporates Bear McCreary's (wow I love that name) score, the likeness of various actors, and the schematics by the show's creators have been used to recreate the ships. Heiko Hubertz, CEO of Bigpoint proudly said, "We are confident that a new standard has been achieved – no longer should browser games be considered subpar to their console or PC-installed counterparts."
That all actually sounds pretty awesome for fans of the SyFy series. Just don't try to convince Senior Editor Nicole Kline it's any good. You can check out the game here.