All Articles:
Bleach: Soul Resurreccion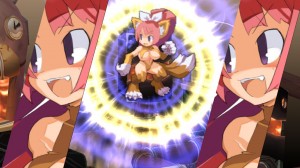 Own a PlayStation 3? Love NIS games? This is a great time to be you, as NIS' PlayStation 3/PSP exclusives are ridiculous.
First, there's Bleach: Soul Resurreccion, a hack-and-slasher that closely follows the anime and manga. Second up is the latest in the Atelier series, Atelier Totori: The Adventurer of Arland, which takes place a few years after Atelier Rorona: The Alchemist of Arland. Third will make fans of ClaDun: This is an RPG! rejoice: it's ClaDun x2, a new game in the series for the PSP. And finally… the moment you've been waiting for… a shiny and absolutely hilarious trailer for Disgaea 4:
"Take a dump on the face of common sense!" Yeah, I am in love with this lineup right now.
Check out more NIS America news, including a trailer for Bleach: Soul Resurreccion, at the PlayStation.Blog.