All Articles:
Borderlands Legends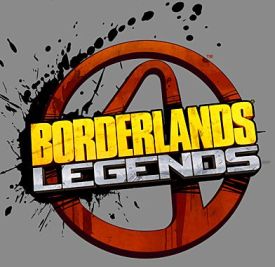 Already blown everything up in Borderlands 2? Found all the hidden references, all the homages to TV shows, and heard every dirty, dazzling line the sequel can throw at you? Are you eager for more blood splatter on the dust of Pandora? Then Borderlands Legends is the mobile/tablet game for you.
Featuring the original lineup of character from Borderlands (who are NPCs in the sequel), the new title takes the first person shooter and warps it into a top-down squadron-based shooter where you control the gun-toting quartet of Roland, Mordecai, Brick, and the fiery Lillith. Each character will have a mini-skill tree similar to the console games, and they can be tooled to the teeth thanks to the omni-presence of Marcus and his vending machines. As it is top-down, players will now be able to use cover to plan their attacks through the hordes of rakk, bandits, spiderants, and other Pandorian scum.
Like Claptrap, the game is annoying only for iOS devices ($4.99 for iOS, $6.99 for iPad), with no word on an Android or Windows 8 version. But with Borderlands Legends' iOS release scheduled for October 31, we probably won't have to wait long.
[Source: Entertainment Weekly ]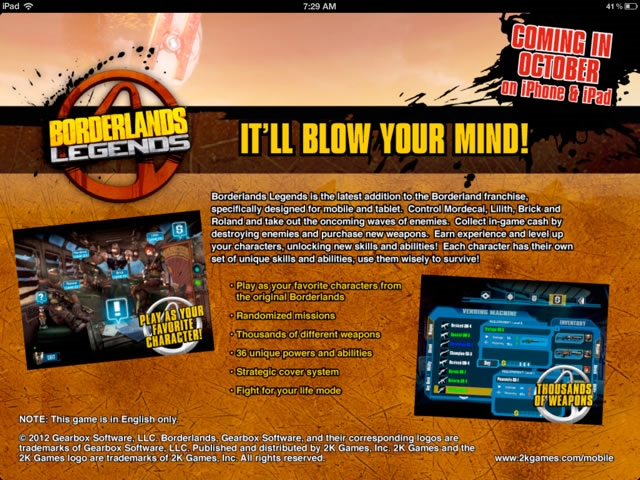 The original vault hunters from Borderlands (Brick, Lilith, Mordecai, and Roland) are coming back for another round of ridiculous shooting action in Borderlands Legends for the iPad/iPhone/iTouch. The existence of the app was confirmed thanks to a post on the Gearbox Software Forums.
Borderlands Legends will be available in October (hey, that's this month!) and will offer "randomized missions, thousands of different weapons, 36 unique powers and abilities, and a strategic cover system."
All of these bullet points will be in support of "Fight For Your Life Mode," a survival shooter where players have to battle wave after wave of Pandoran enemies.