All Articles:
Choplifter HD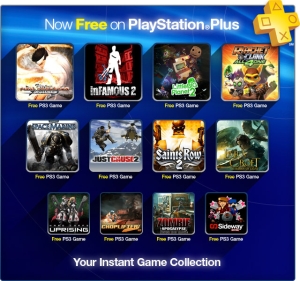 Between all the free games and the ridiculously awesome sales, PlayStation Plus has always been a better subscription service than Microsoft's Xbox Live Gold. But with its latest gambit, Sony is going for the throat.
Announced last night during their E3 2012 Press Conference, starting today, PlayStation Plus will receive an "Instant Game Collection" of 12 PS3 titles. And these aren't the dregs of the PlayStation Store either. This is good quality, amazing stuff.
Just take a look at the list of free games you'll receive as long as you're a PlayStation Plus subscriber:
Choplifter HD
InFamous 2
Hard Corp: Uprising
Just Cause 2
Lara Croft and the Guardian of Light
Little Big Planet 2
Ratchet and Clank: All 4 One
Saints Row 2
Sideway: New York
Virtua Fighter 5: Final Showdown
Warhammer 40,000: Space Marine
Zombie Apocalypse: Never Die Alone
Downloading all of these games individually from the PlayStation Store would cost over $260. So purchasing a PlayStation Plus subscription for $49.99 per year is a much better option. Especially when you add in all the other monthly bonuses a Plus subscription includes.
Your move Microsoft.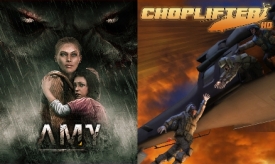 One of today's Xbox Live Arcade additions should be familiar to anyone who checked out the PlayStation Network update yesterday. While another will debut on the XBLA today before making its way to that other download service next week.
Choplifter HD (which is also available on the PSN) can now be downloaded from the XBLA for 1200 Micorsoft Points ($15). The game, which is an HD remake of an Atari 2600 classic, puts players in the shoes of a rescue pilot:
In Choplifter HD, players take on the role of an up and coming rescue pilot asked to join the elite, international helicopter rescue team. Pilots will be trained to command a variety of helicopters with offensive capabilities including missiles and mini-guns, as well as a very vocal co-pilot. Combining reality with elements of fantasy, the more than 30 rescue missions will range from captured military prisoner extraction to saving survivors of viral outbreaks.
Meanwhile, Amy (which will give PS3 owners some undead deja vu next week) is now available to download from the XBLA for 800 Microsoft Points ($10):
The city is infected! Walking corpses sniff the air, flaring out anything still alive. There is only one thing keeping you from running for your life. A special little girl holds your hand… You're not going anywhere without her. Amy offers you a tense, innovative and immersive experience in survival horror gaming. Play two original characters who alone are desperately fragile, but united become a force capable of confronting the denizens of a living hell. Get ready to become infected.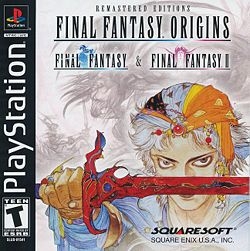 The first two chapters of the Final Fantasy saga were added to the PlayStation Network yesterday. With the addition of Final Fantasy Origins to the PSone Classics line, Square Enix has also ensured that all nine PSone games in the franchise are now available to download from the store. Speaking of Final Fantasy, a Final Fantasy XIII-2 demo was also made available to download yesterday.
Also available this week is Choplifter HD, "a classic arcade adventure, reimagined in stunning HD!" Players will be able to pilot their chopper through frantic war zones while rescuing survivors and raining down destruction.
Here's what else you can grab from the PlayStation Store this week:
PSN Games
Crazy Machines Elements ($9.99)
Hundreds of totally wacky chain reactions are just waiting to be created! Experience the latest chapter in the international, multi award-winning Crazy Machines series: "Elements". This time with next gen visuals!
PS3 Full Games
Sports Champions ($29.99)
Sports Champions will let you and your friends physically engage in an array of competitive sporting activities as you go head to head in six events. With the easy to use PlayStation Move motion controller, anyone can crush, spike and smoke the competition in the ultimate sports showdown.
Toy Story 3: The Video Game ($19.99)
In the Toy Story 3: The Video Game help Buzz, Woody, and the rest of the toys ensure no toy gets left behind. Dive into all new heroic adventures in Story Mode or let your imagination run wild in the exciting new open world of Toy Box Mode.
And for a full rundown of all the new game add-ons and demos available this week, head over to the PlayStation Blog.