All Articles:
Chucky
Tik Games first announced Chucky: Wanna Play? last May with an expected release date of Fall 2011 on the PC, PlayStation Network, and Xbox Live Arcade. But the Fall came and went and gamers certainly didn't get lucky with a brand new Chucky game. Now we know why.
The developer has turned to Kickstarter to help fund the rest of the development of Chucky: Wanna Play?, which has now become a PC exclusive. Tik Games is seeking $925,000 to complete the game for an expected release date of May 2013.
"After securing the video game publishing rights for this menacing little character, we decided to launch a Kickstarter campaign to help fund the development. This allows us to build the game for gamers and not worry about watering down our vision to appease mass market game resellers," said Alex Tikhman, Co-Founder and VP of Publishing & Business Development for Tik Games. "If our campaign is successful, we will create a game that truly captures the edge-of-your-seat thriller action of the menacing spirit Chucky."
The Chucky: Wanna Play? Kickstarter campaign will run through November 14, and if you're willing to open your wallet extra wide, Tik will even let you contribute to the game's development.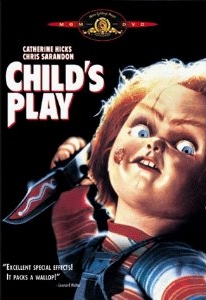 I could never understand why someone would be afraid of a murderous doll. Once you realize its evil, just drop kick it across the room. Bam! No more Chucky! Yet, the cute little doll with the soul of a serial killer starred in five movies, and this Fall, he'll take center stage in his own video game.
Developed by Tik Games, Chucky is in development for "console and PC digital distribution platforms." Players will don the sneakers and overalls of the killer doll in an original storyline that "extend[s] his gory legacy" and features the "stealth and guile" Chucky is known for.
"We're proud to be able to bring a fan-favorite movie character, such as Chucky, to gaming platforms," said Alex Tikhman, Co-Founder and Vice President of Publishing for TikGames. "Fans have been asking for a Chucky game for years and, soon, gamers around the world will be able to enjoy highly-entertaining, interactive, downright gory experiences with this brand."
I thought Tikhman was joking, but apparently there really has been a huge outcry for a Chucky game.