All Articles:
Civilization Revolution 2
The smell of peanuts and Crackerjack are in the air… Opening Day 2016 is less than a week away. As we wait for that first "Play Ball!" of the season, Sony and MLB Advanced Media added a pair of baseball sims to the PlayStation Store this week.
Developed by Sony San Diego, MLB The Show 16 returns for another year on the PS4 and PS3, and promises to include "more gameplay improvements, new game modes, and a greater ability to personalize your baseball experience." Meanwhile, MLB Advanced Media's RBI Baseball 16 brings its retro-styled gameplay to the PS4, with the developer promising to include a "revamped defensive AI" and an "improved batting system."
MLB The Show 16 and RBI Baseball 16 will be joined by more than a dozen other new games on the PlayStation Store this week including a Resident Evil 6 re-release on the PS4, Sid Meier's Civilization Revolution 2 Plus on the Vita, and the side-scrolling shooter No Time To Explain on the PS4.
Finally this week, Telltale is pulling double duty with the release of Minecraft: Story Mode Episode 5 and The Walking Dead: Michonne Episode 2 on the PS4 and PS3.
More information on all of these games (and the rest of this week's new releases) can be found after the break. And a complete rundown of this week's new game add-ons and discounts can be found over at the PlayStation Blog. (more…)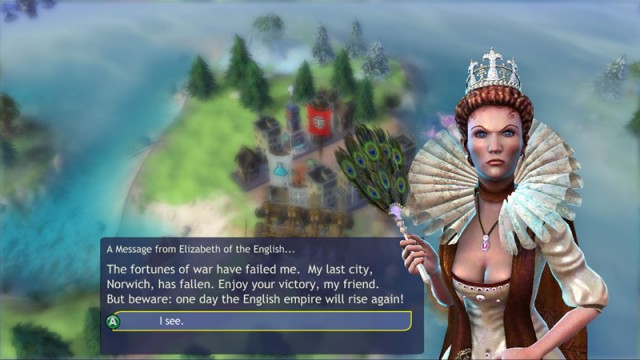 I know that image is from the Xbox 360 version of Civilization Revolution, but I liked it, so I'm sticking with it. Anyway, 2K Games has announced that Sid Meier's Civilization Revolution 2 will be released on iOS on July 2, which is really soon. According to the press release, which you can see after the jump, it will be coming soon to Android devices as well.
This seems like a pretty rational move for the company, which released the first game on iOS after having a run on consoles and handhelds. The sequel has been developed exclusively for mobile devices, and promises it will be " delivering high-impact graphics and new gameplay and controls that capitalize on the mobile technology advancements since the original Sid Meier's Civilization Revolution launched more than five years ago."
Hit the jump for the full press release.