All Articles:
Class of Heroes 2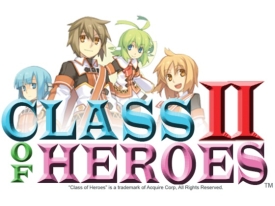 For those of you who rend your clothing over the sheer amount of awesome games in Japan that will never appear on American store shelves, here's a chance to support the hard working people in the localization business!
MonkeyPaw Games and Gaijinworks have announced the acquisition of Class of Heroes 2, a dungeon crawler-style RPG for the PSP, as well as a Kickstarter campaign to fund gameplay improvements and a limited edition deluxe package. The overall goal, though, is to attempt to bring more import titles to western markets, and what better way to do so than with the support of hardcore fans?
Gaijinworks President Victor Ireland (yes, the same Victor Ireland from Working Designs), calls this the "craziest deluxe pack" he's ever done, and if you're a collector at all, you know Working Designs basically invented the concept of the super premium collectors edition with the pack-in soundtrack.
The Grand Tier pledges get even crazier than plush toys or signed posters; for a generous enough pledge, you might get a trip to Japan to meet the creators of the game, or a two-night stay in Los Angeles, tickets to E3, and dinner with MonkeyPaw and Gaijinworks.
So check out the Kickstarter campaign page to see all the crazy bonus stuff you could get for your support!