All Articles:
Code Name: STEAM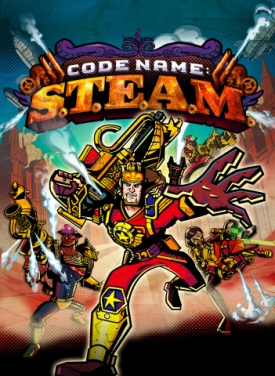 Nintendo's alien-busting team led by Abraham Lincoln himself, Code Name: STEAM, will be available for the 3DS tomorrow. The colorful strategy game is a bit of a departure for Nintendo, but we should probably be used to that by now. Since the 3DS launched in 2011, the publisher has often zigged when everyone else thought they would zag.
One of their earlier sharp turns, F-Zero: GP Legend, is now available to download through the Wii U eShop. The final game in the F-Zero series was originally released for the Game Boy Advance in 2004 alongside a companion anime series. The Wii U eShop is also home to Trine: Enchanted Edition this week. Trine 2 is already available for the Wii U, but its predecessor is also considered a classic by the puzzle platformer crowd.
And speaking of classics, another classic racing game will be available on the 3DS eShop this week as Sega has recreated and re-released the 80s arcade staple Out Run as 3D Out Run.
More information on all of these games (and a few others) can be found after the break. (more…)