All Articles:
Crackdown 3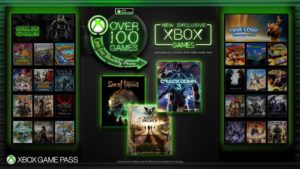 Microsoft already established the Xbox Game Pass as a pretty great deal when it offered Xbox One owners the ability to play more than 100 games for just $10 a month. But now they're upgrading the service from a "pretty great deal" to an "absolutely amazing deal."
Today, the consolemaker confirmed (via Xbox Wire) that all future Microsoft-published titles will be available to download through the Xbox Game Pass on their launch date. That includes Sea of Thieves on March 20, and State of Decay 2 and Crackdown 3 late this year, as well as unannounced new entries in the Halo, Gears of War, and Forza franchises.
Moving forward, we plan to release all new Xbox One exclusive games from Microsoft Studios into Xbox Game Pass on the same date as their global release. This means that when Sea of Thieves launches on March 20, it will be included in Xbox Game Pass to all members.

This plan to bring new games timed with their global release into Xbox Game Pass not only includes announced titles like Sea of Thieves, State of Decay 2, and Crackdown 3 but future unannounced games from Microsoft Studios including new iterations of our biggest Xbox One exclusive franchises such as Halo, Forza, and Gears of War, on the same day they launch.
If you haven't signed up for Xbox Game Pass yet, Microsoft also plans to team up with GameStop to offer a Six-Month Xbox Game Pass Subscription Card for $59.99.