All Articles:
Crimson Alliance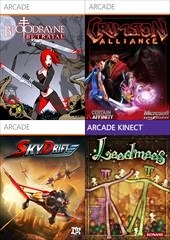 Not to be outdone by Sony's PSN Play promotion, Microsoft has added four titles to the Xbox Live Arcade today.
Two of the new releases, vampiric side-scroller BloodRayne: Betrayal and plane racer SkyDrift, were previously added to the PlayStation Store yesterday. New to the XBLA is the Kinect-powered "full body puzzle action game" Leedmees and the multiplayer action RPG Crimson Alliance.
BloodRayne: Betrayal and SkyDrift have both been priced at 1200 Microsoft Points ($15) while Leedmees has been given an 800 Microsoft Point ($10) price tag.
Crimson Alliance's price is a bit harder to explain. The game uses an a la carte pricing scheme whereby players can purchase the "full game" for 1200 Microsoft Points and receive to all three of the game's classes (assassin, mercenary, wizard) or they can lock in to a single class for 800 Microsoft Points.
More information on all of this week's new releases can be found at Major Nelson's blog.

Microsoft has revealed the release schedule and price points for this year's Summer of Arcade promotion. Beginning on July 20 and ending on August 17, five highly anticipated games will be added to the Xbox Live Arcade for your gaming pleasure. The full release schedule is as follows:
July 20: Bastion (1200 Microsoft Points)
July 27: From Dust (1200 Microsoft Points)
August 3: Insanely Twisted Shadow Planet (1200 Microsoft Points)
August 10: Fruit Ninja Kinect (800 Microsoft Points)
August 17: Toy Soldiers: Cold War (1200 Microsoft Points)
Like in years past, players who purchase every game during the Summer of Arcade will receive a free bonus. This year, Microsoft plans to reward the completist Summer of Arcade shopper with a free download of Crimson Alliance, a "fast-action RPG game from industry-leading Certain Affinity" that'll be available through the XBLA on September 7.