All Articles:
Culdcept Revolt

NIS America got a few minutes to talk about their upcoming 3DS and Switch releases during Nintendo's most recent Nintendo Direct presentation. Skipping right to the point, the niche publisher confirmed that Culdcept Revolt, a card-battling RPG that mixes concepts from Magic: The Gathering and Monopoly, will be released for the 3DS on August 29.
In case you missed it, NIS America unveiled an Announcement Trailer for Culdcept Revolt back in February.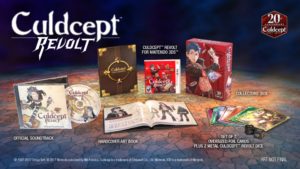 Culdcept Revolt made its Japanese debut back in July, but NIS America wants to ensure players are just as impressed by its US launch. The publisher has announced that a special Limited Edition for the game will be available alongside the Standard Edition and the digital download on the 3DS eShop.
Culdcept Revolt's Limited Edition will be sold exclusively through the NIS America Online Store. Players who purchase the premium version of the newest entry in a franchise that melds Monopoly with Magic: The Gathering will receive the following extra items:
Culdcept Revolt Limited Edition

Culdcept Revolt for Nintendo 3DS
Collectors Box
Hardcover Art Book
Official Soundtrack (1 Disc)
Oversized Foil Cards (Set of 7)
Metal Culdcept Revolt Dice (Set of 2)
Culdcept Revolt's Limited Edition will be priced at $59.99, and NIS America will release the game in the US this Summer.
NIS America made dozens of announcements last night during a special livestream that fully unveiled their 2017 release schedule. Fans of the Culdcept franchise, their Monopoly/Magic: The Gathering hybrid, should be very pleased with confirmation of a Summer 2017 launch for Culdcept Revolt for the 3DS.
Like previous games in the series, Culdcept Revolt will include a story-based Quest Mode where players battle other Cepters (wizards who can wield magical cards as weapons) and attempt to save the Princess/the kingdom/the world. Developer Omiya Soft will also include local and online multiplayer battling in the game.
Culdcept Revolt will be released for the 3DS this Summer, and its debut trailer can be viewed above.